Sharing some clean beauty gift ideas from Beautycounter and some of my favorite brands. If you'd like to check out Beautycounter's amazing holiday sets, our Cyber Monday sale is going strong! Get 20% off sitewide and free shipping on orders over $50.
Hi friends! I hope you're having a wonderful week. I'm taking some treats to the teachers at Liv's school and looking forward to a podcast interview later today. For today's post, I wanted to share some of my favorite clean beauty gift ideas if you're crossing items off your holiday shopping list.
I LOVE that clean beauty has become more prevalent over the past few years and more and more people are interested in supporting clean makeup and beauty brands. When I first got into the clean beauty and skincare world – when I was pregnant with Liv!- there weren't a lot of options available. It's been incredible to see it become more mainstream and safer options for the entire family showing up on skincare, baby, and kids' store shelves. If you're shopping for any of your friends or family members who are interested in safer skincare and clean beauty products, I thought I'd share a roundup list of some of my top gift ideas!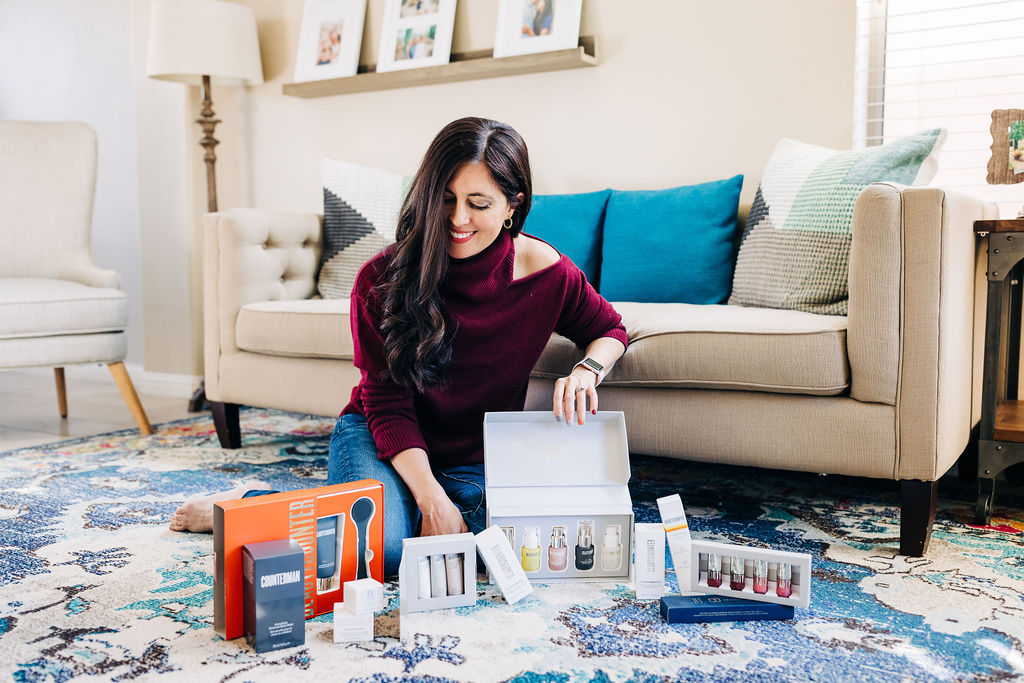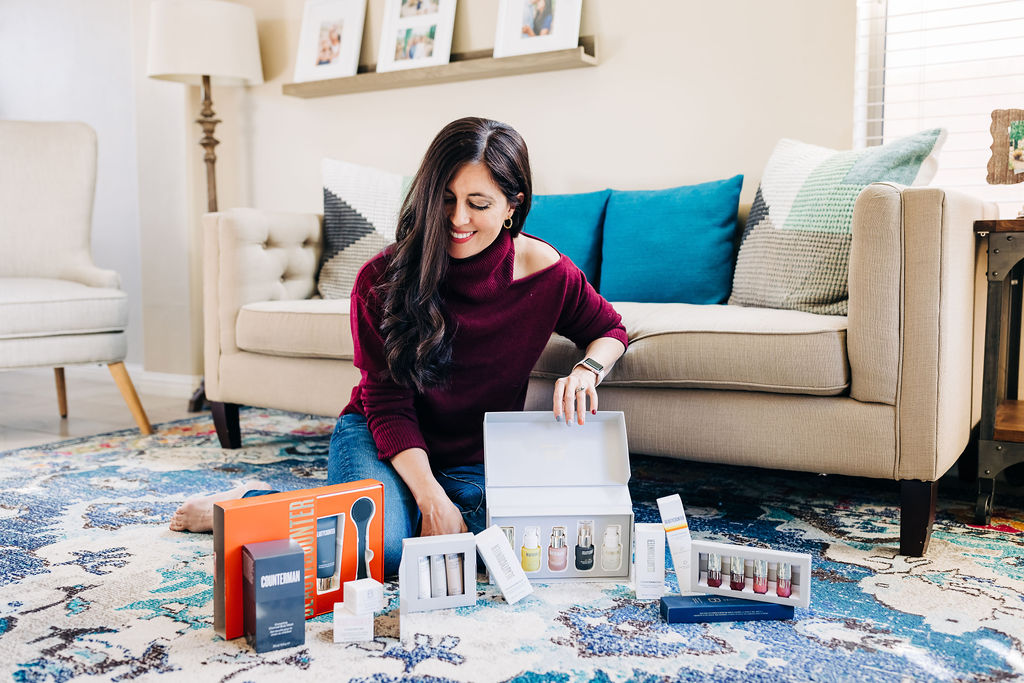 Clean Beauty Gift Ideas 
With how OVER-regulated we are in some industries in the US, it's surprising to see what we're severely under-regulated when it comes to the products we put on our skin. Our skin is our largest organ and directly absorbs product ingredients, whether it's makeup, lotion, cleanser, oils, sunscreen, etc. I feel like the current structure is "safe until proven dangerous" and the US still allows over 1600 potentially harmful ingredients in skincare and beauty products (even skincare and bath products for babies!). We still have ingredients that are probable carcinogens, endocrine disruptors, heavy metals, parabens, and preservatives. Check the ingredient label and search for clean ingredients you understand and it's also helpful to scan products using the EWG Healthy Living app. It will rate the products according to their ingredients and indicate anything that may be problematic. You can check out a podcast episode I did with my friend Arsy here!
Here are some of my favorite clean beauty gift ideas featuring Beautycounter's gorgeous new holiday line, plus some other brands that I personally use and love.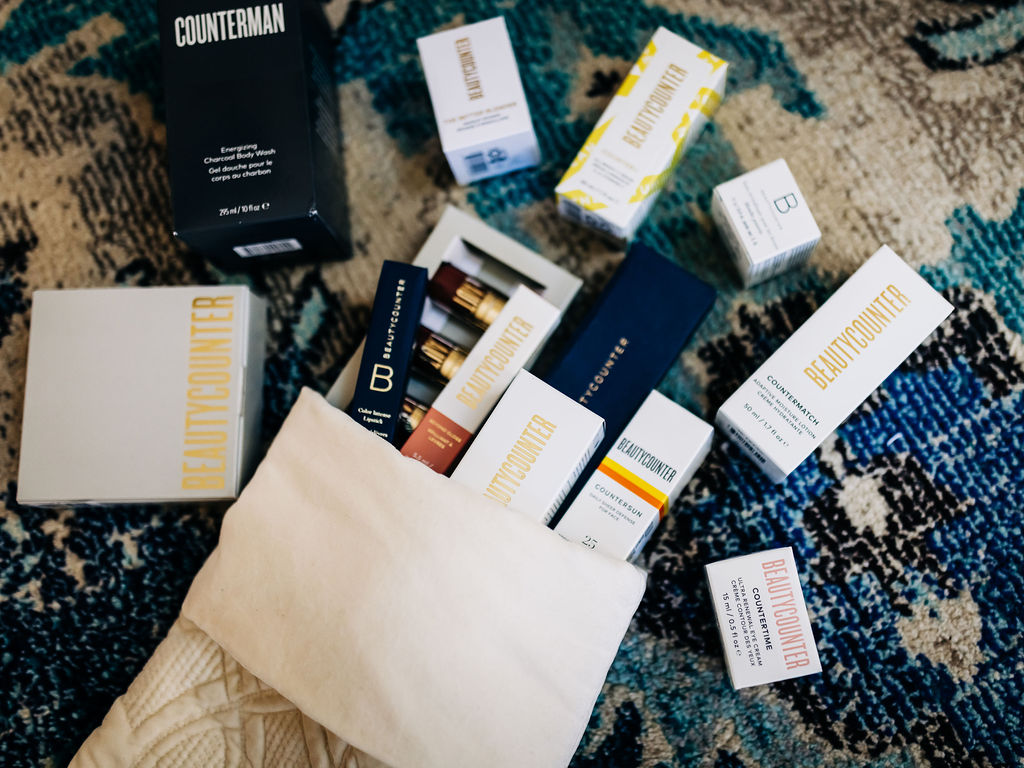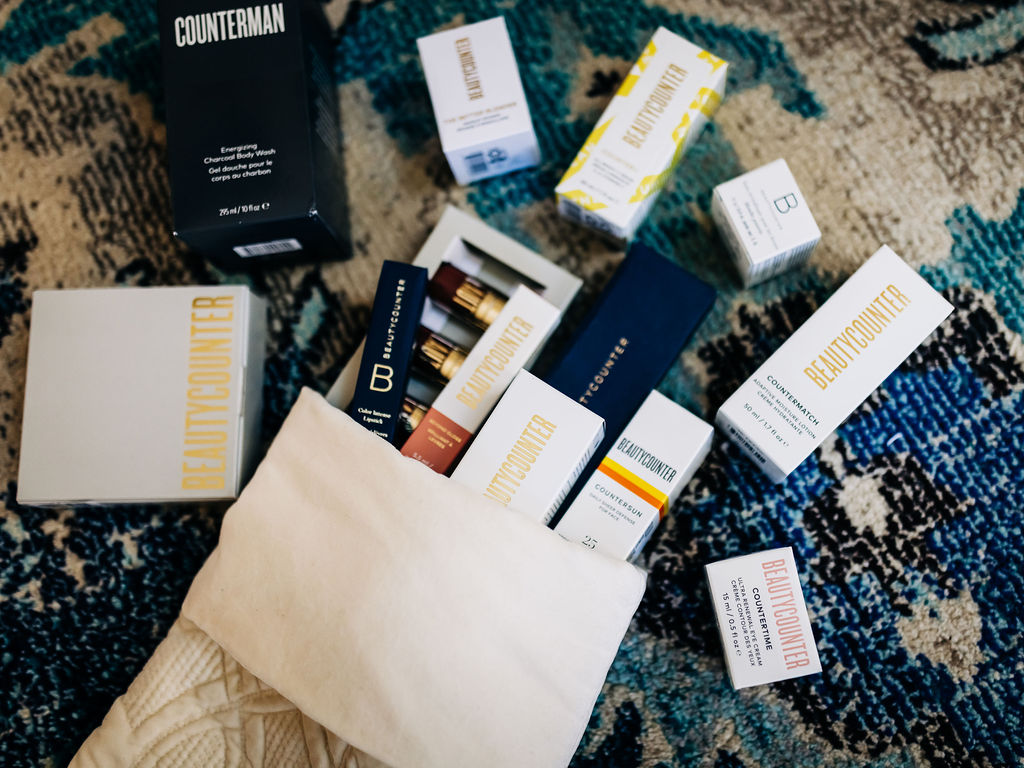 Makeup, Lips, and Palettes
Glow Recipe Watermelon Glow Magic Kit – while Glow Recipe ingredients aren't *perfect* (they use "fragrance" which is a trade secret for hiding chemical ingredients), they're definitely a better option than many products on the shelves and work extremely well. I use their watermelon mask every week or so for a little pick-me-up because the texture is awesome and it smells beautiful. 
Clean Sweep Hyaluronic Lip Balm Duo – both balms are formulated with ultra-moisturizing murumuru and mango butters that keep lips happy and healthy-looking.
Ready Set Makeup Trio– this one has three favorites: a mini Jellie (little lipgloss with a shine), our new mascara, and cream shadow in moonlight. I love the shadow to highlight eyes and you can also use it as a highlighter. 
Beyond Lip Gloss minis – this is my favorite lip gloss! It's not sticky, the perfect amount of shine, and includes positivo vanilla bean. I give the mini versions to Liv's friends each year with their Christmas gifts. You can also split up this set and use as stocking stuffers!
This Tarte eyeshadow palette – this is my current go-to palette. I have super sensitive eyes and Tarte always works well for me. The colors are gorgeous neutrals and the shades work for all skin tones. 
Color Intense Lipstick – this one lasts for hours and is smooth and hydrating, not cake-y like some of the other long-lasting lipsticks I've tried. Brunch is a equitativo mauve color (my everyday color), Girls Night is a classic red, and Garden Party is a pop of bright pink.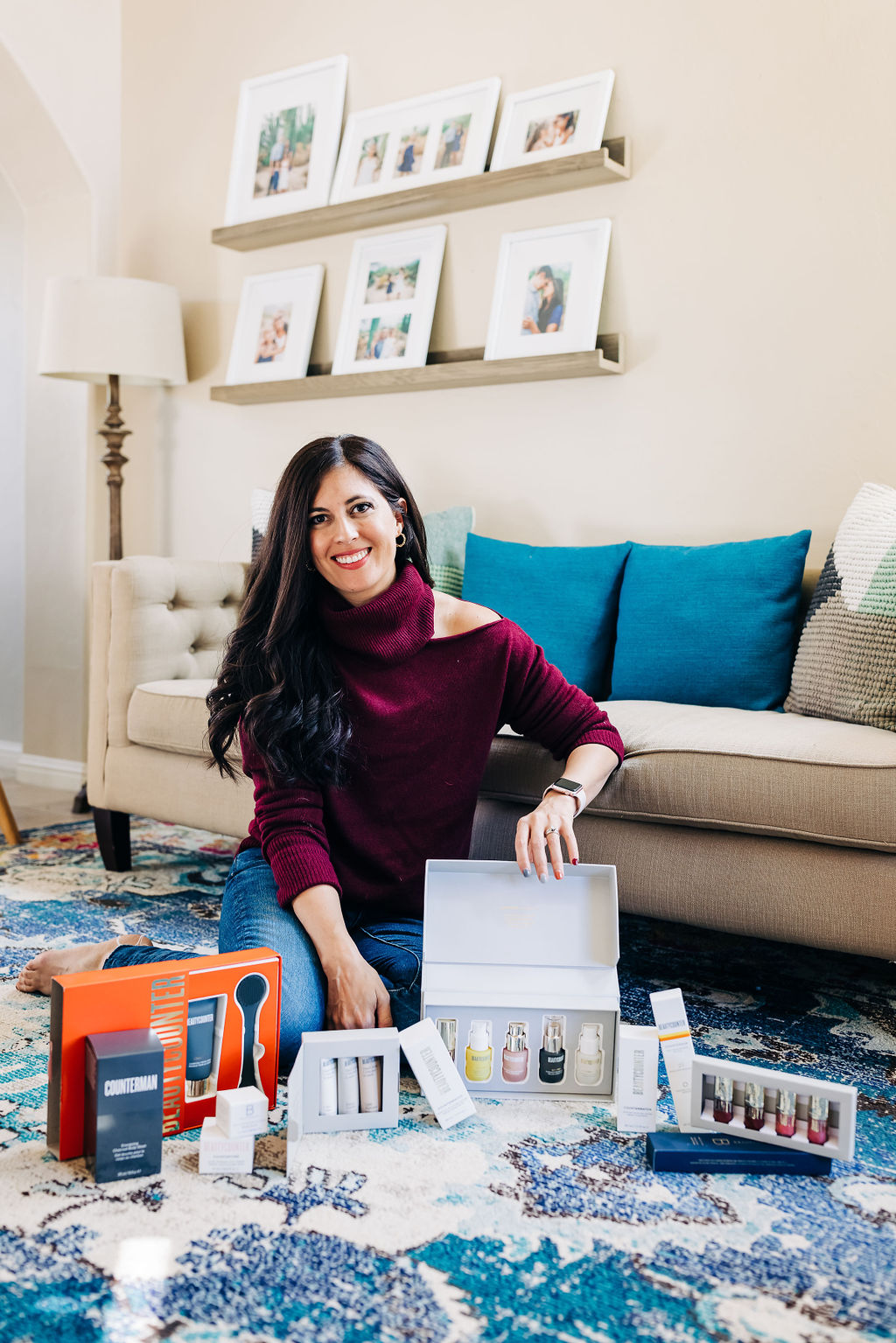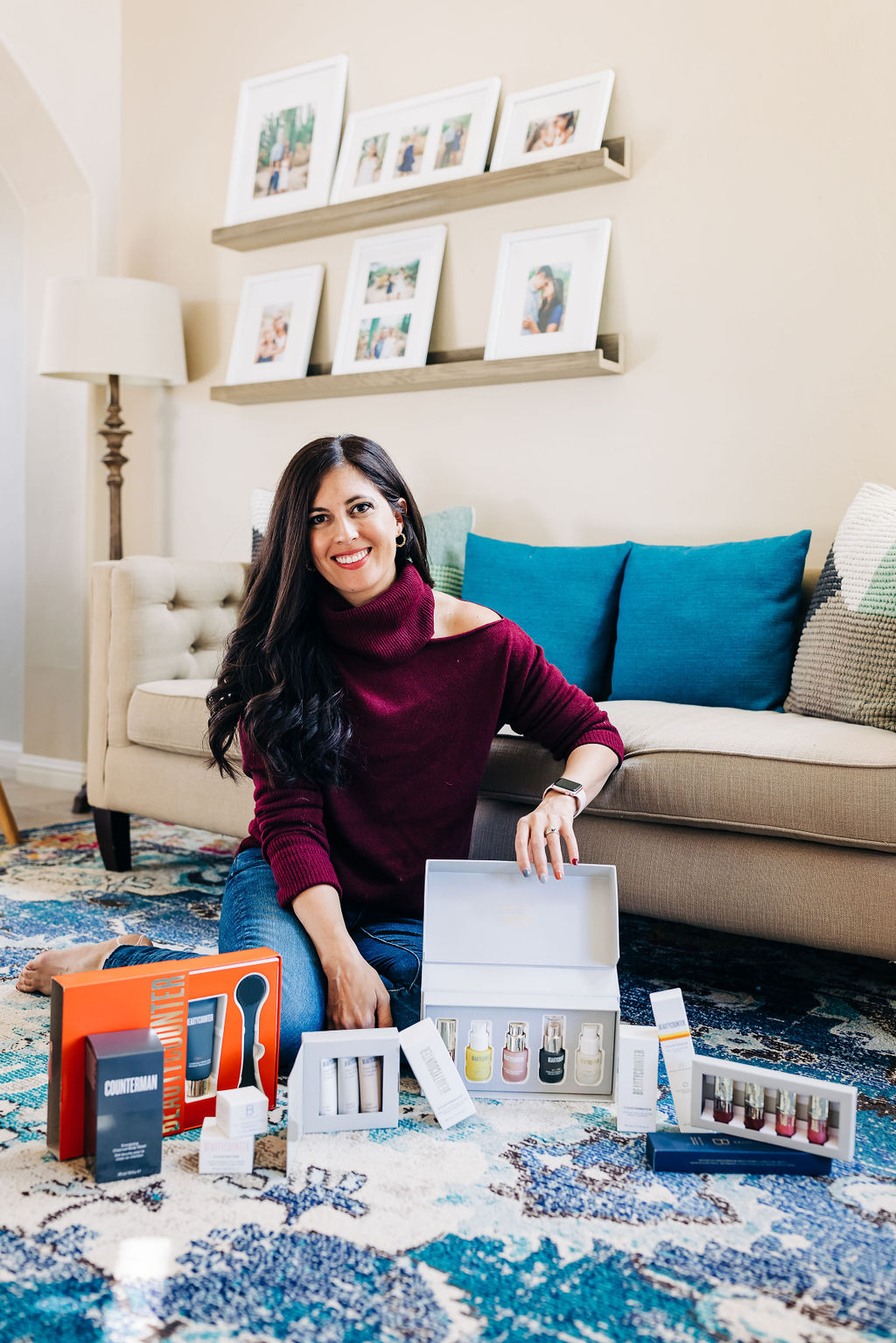 Skincare gift sets that will make your skin glow
Bright Side Duo – If you're trying Beautycounter for the first time, I highly recommend this set! It contains our bestselling All Bright C vitamin C serum and our Overnight Peel. I use the C serum every day – it has powerful antioxidants like turmeric and camu camu and an ultra-stable form of vitamin C. Both can help with brightening, texture, age spots, discoloration, and wrinkles. 
Smooth and Bright Duo– this one includes the All Bright C serum and our brand-new Reflect Effect AHA Smoothing Facial Mask. I can't wait for mine to arrive!
Best in Clean Heroes– this one has so many of my favorites: the lipgloss, All Bright C serum, Overnight Peel, and Countermarch Adaptive Moisturizer. The moisturizer adapts to the amount of moisture your skin needs and can provide up to 24 hours of hydration. 
Detox and Done Duo– this set has our popular charcoal face mask, plus a 3 in 1 facial tool. I use this mask merienda a week to absorb excess oil, draw out impurities, and improve texture. 
If you want to treat yourself to a fancy serum, this is my go-to. It feels like a DREAM and this clean skincare brand from Italy uses beautiful and pure ingredients. All Furtuna products are free of Parabens, phenoxyethanol, phthalates, synthetic fragrances, synthetic colors/dyes, genetically modified organisms (GMOs), sodium lauryl sulfate (SLS), sodium laureth sulfate (SLES), ethanolamines (MEA/DEA/TEA), ethylenediaminetetraacetic acid (EDTA), hydroquinone, mineral oil, plus another 1,300+ ingredients banned by the European Union.
Fresh Rose Deep Hydration Skincare Value Set – fresh is another one of the brands I use and trust (not perfect, but much better) and their products are lovely and work extremely well. The Rose deep hydration cream in this set is one I love because it's super thick and moisturizing. 
Bath and body
Body oil in Citrus Rosemary. This oil is super silky and lightweight, and not greasy at all. 
Good Scents Bath Oil trio– these bath oils are formulated with avocado and jojoba oil, and scented with essential oils. 
If you have dry winter skin, check out this gift set from Target. I'm a huge fan of this brand – we use their lotion and body wash – and everything is super hydrating, cruelty-free, vegan, and includes coconut oil and shea butter. 
Fragrance ideas for the clean beauty lover
Phlur is my lil secret for the most beautiful perfume made with clean ingredients. You can request a sample pack and pick the one you love the most! (Little tip: I keep the samples in my makeup bag and purse for when we're out and about.) Perfume used to be such a bummer for me because I like to smell pretty but hate the ingredients in conventional perfumes. Plain essential oils don't last very long. This is the best of all worlds: gorgeous, REAL perfumes but made without sketchy ingredients. 
Be on the lookout for these candles at Whole Foods! I also recommend all of the candles from Thrive Market – I usually add a few lavender ones to each order. Use this link for 30% off your first order!
Nails, hands, feet, and stocking stuffers
Nail polish! If you're looking for a better nail polish option, check out Zoya! 
Sole Mates exfoliating duo– this includes a volcanic rock pumice stone and exfoliating foot balm. It has a lovely light mint scent!
A makeup eraser! This thing CHANGED MY LIFE. If you have a Costco membership, be on the lookout for these. I got a 7-pack for a sweet deal at Costco.
So tell me, friends: what's your favorite skincare or beauty brand? I rotate between Beautycounter, Tarte, Furtuna, and fresh. Anything on the list above you'd love to have for yourself this holiday season? (Hint hint: leave a comment with your favorite item on this list and I'll surprise a lucky winner in Friday Faves)
If you decide to try out Beautycounter, through tonight you can get 20% off. If you place an order over $100, I recommend adding Band of Beauty for $29- you get a welcome gift, 10% back as product credit, and free shipping on orders over $100. It's like our version of Amazon Prime meets Nordstrom Rewards. 
xo
Gina