Hi friends! How's the week going? I hope you're having a lovely morning. We're back in town after a magical long weekend in Sedona. Sedona is one of my favorite spots in the whole world, and I'm always thankful for the opportunity to get away and enjoy some picturesque hikes and adventures with the fam. It was our first time taking Maisey on vacation with us and she was a huge fan. I think she's convinced that every car ride is an epic adventure.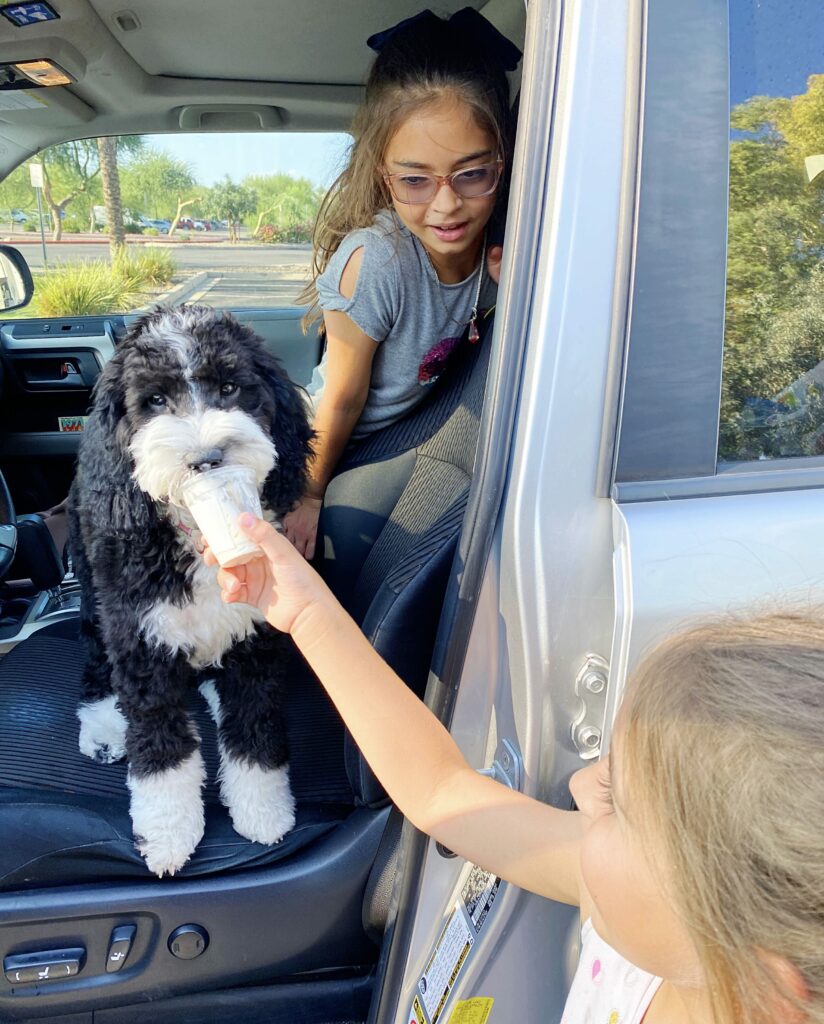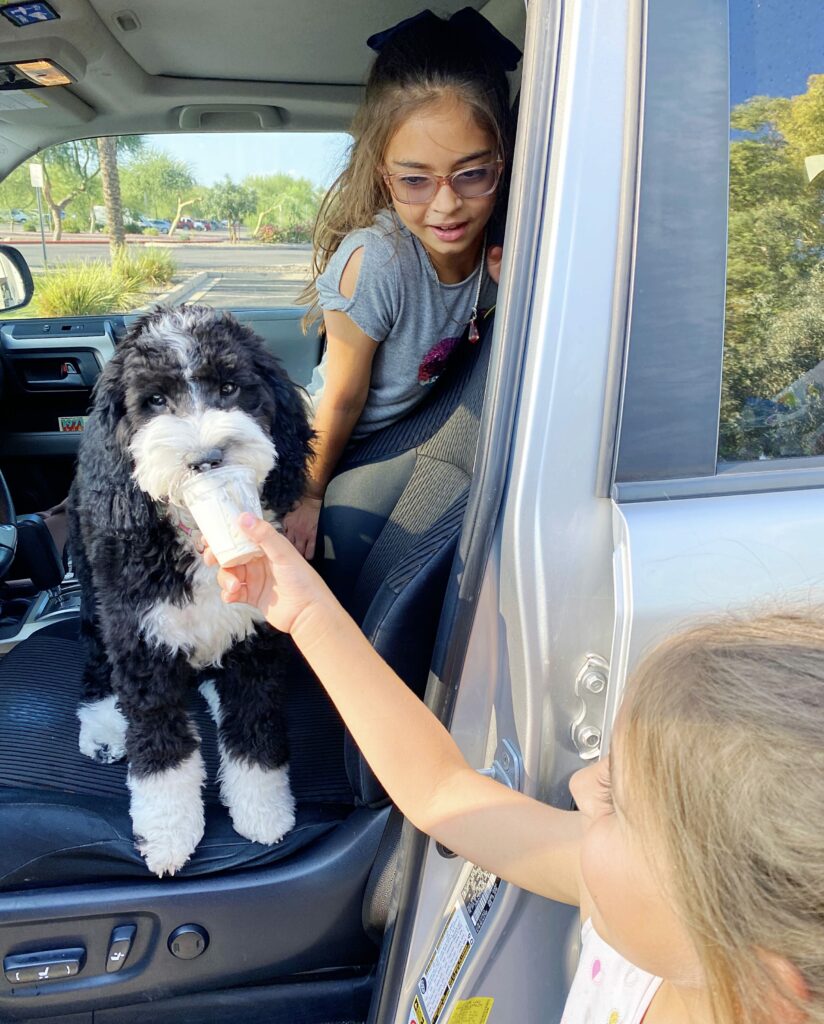 (Her first puppaccino and she was into.it.)
We left on Friday morning and traffic.was.insane. Usually it can get pretty congested, but this was next-level bad. Instead of taking 3 hours and 45 min to get there, it took 8 1/2 hours! AHHHHH. The girls are travel champions but we were all SO ready to get out of the car. We picked up Picazzo's on our way into town (it was excellent) and crashed at the Airbnb. In an effort to try something new, this was our first time not staying at L'Auberge de Sedona. While I definitely missed the convenience and luxurious vibe, our Airbnb was super cute and gave us a lot of flexibility with our trip.
Some pics: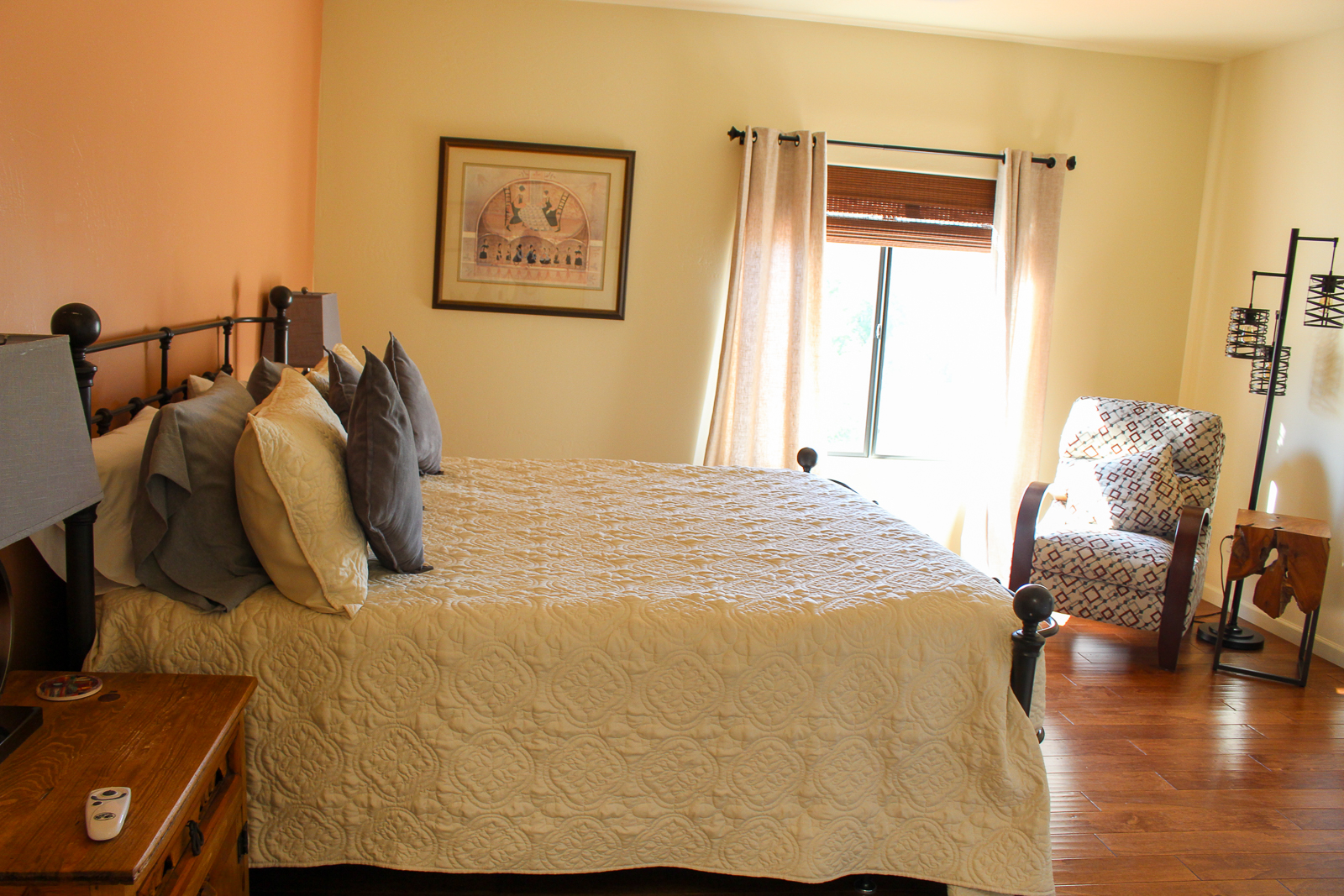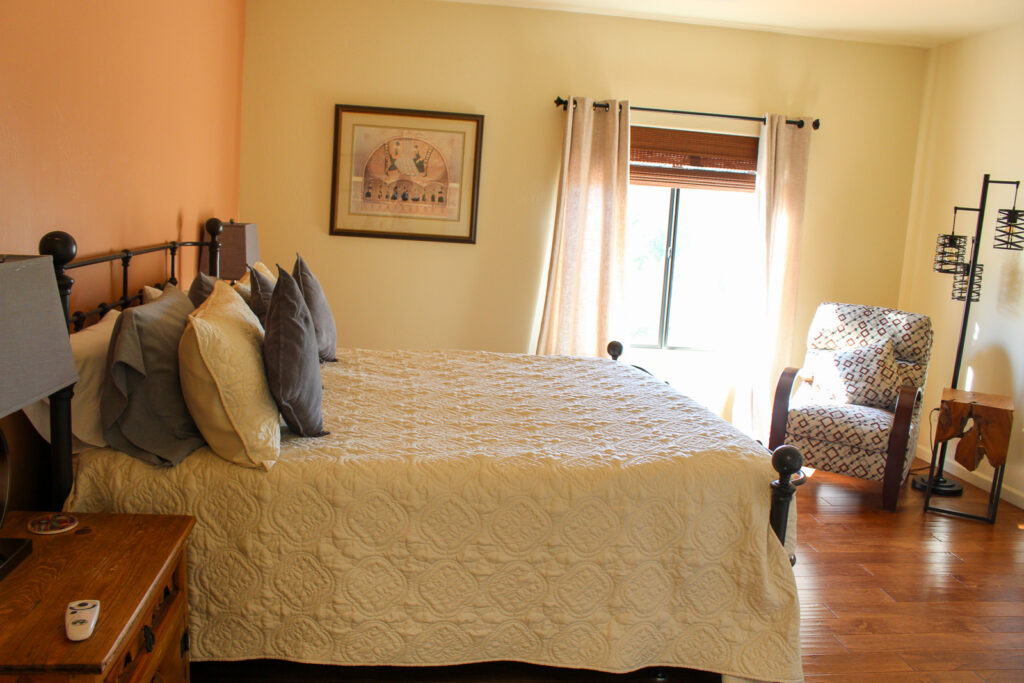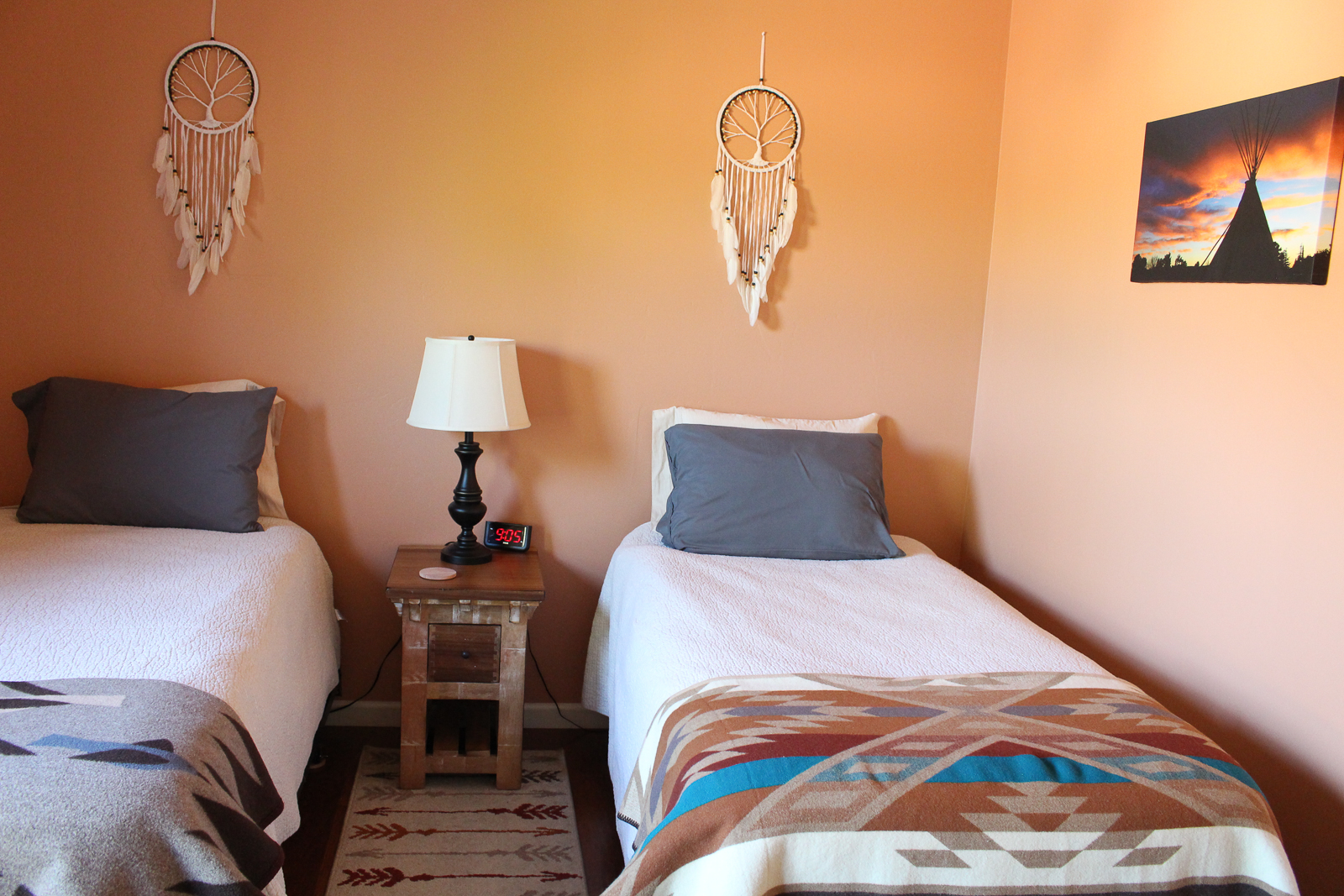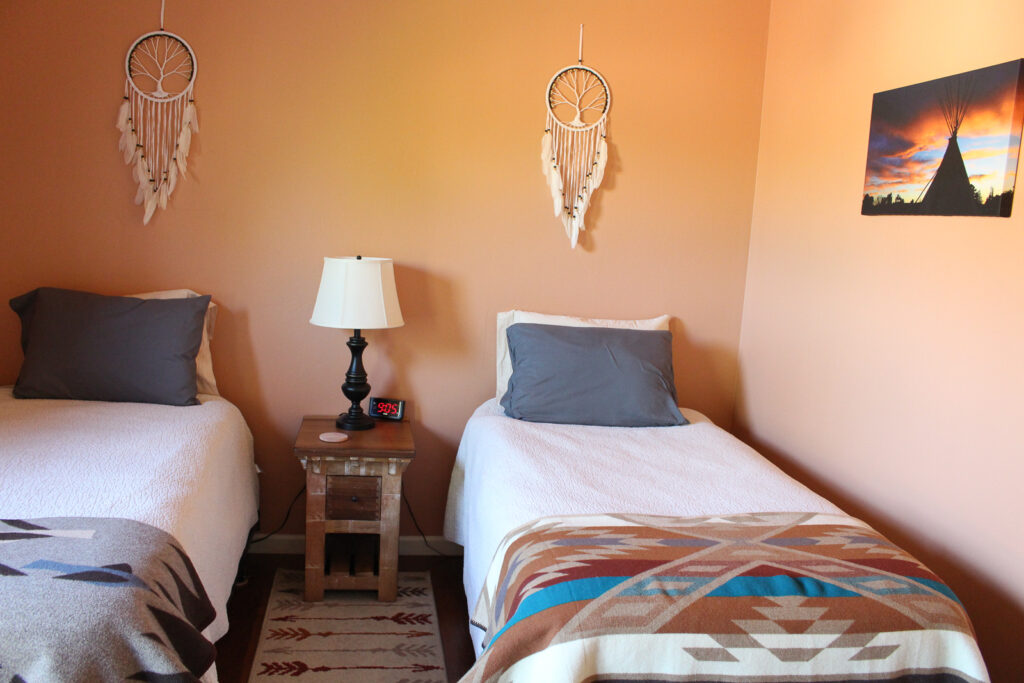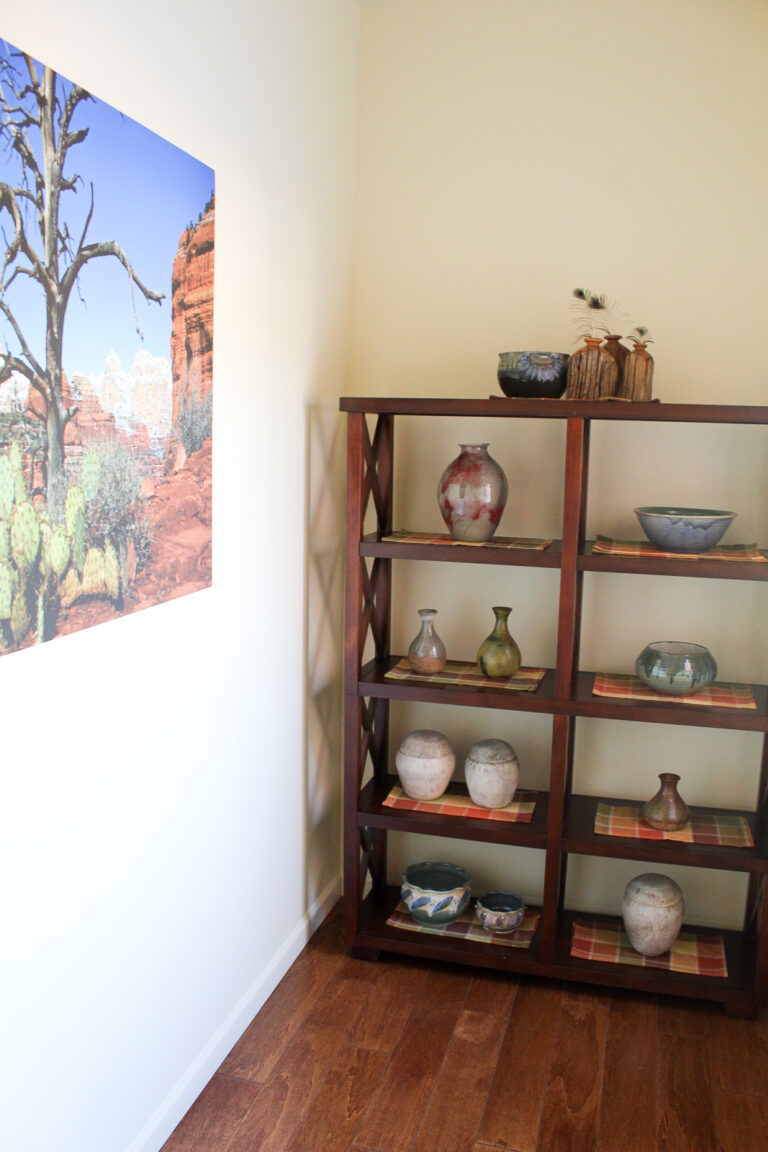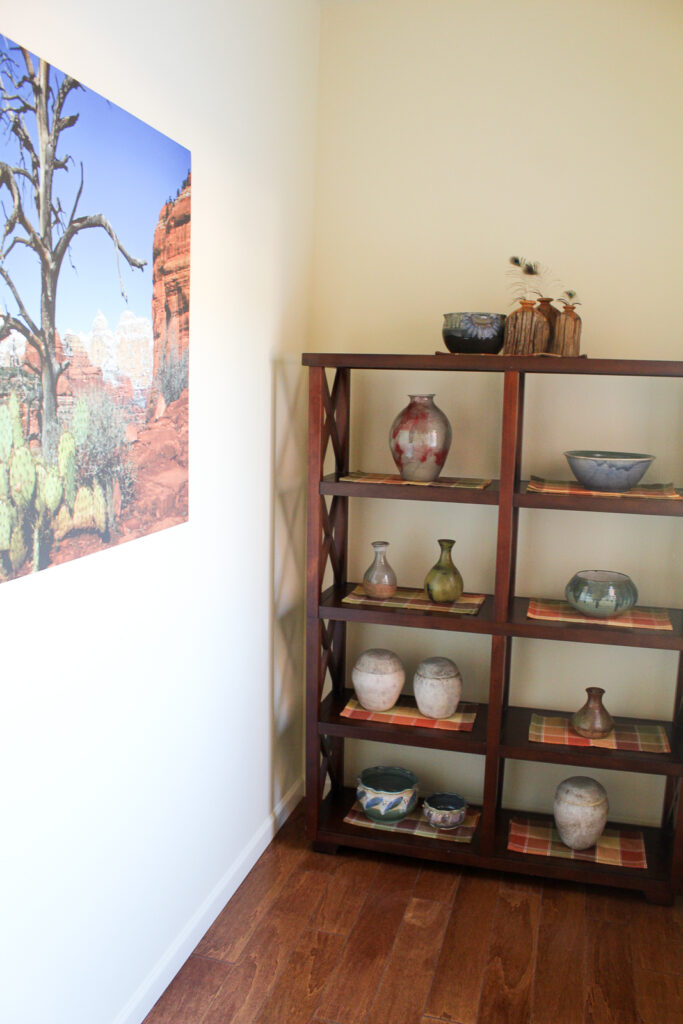 When we're in Sedona, we typically rotate between three necessities: outdoor adventures/hikes, shopping, and eating. What more do you really need, right?!
Some of the outdoor adventures we enjoyed:
– Slide Rock. Slide Rock is a must-do if you have kiddos (or if you're just a kiddo at heart). Natural slides are built into the rocks in the creek and there are multiple opportunities to slide, swim, and jump off cliffs. The water is FREEZING but once you get in, you get used to it fairly quickly. Liv and I went on the big rock slide together at least 10 times haha. Pro tip: wear water shoes. Many of the rocks are coated with algae, which can get slippery. We also pack up a cooler with snacks, drinks, sunscreen, etc. They have a cute market which sells food and convenience items, but it's closer to the entrance than the actual park. You can check out more pics and tips on Slide Rock here.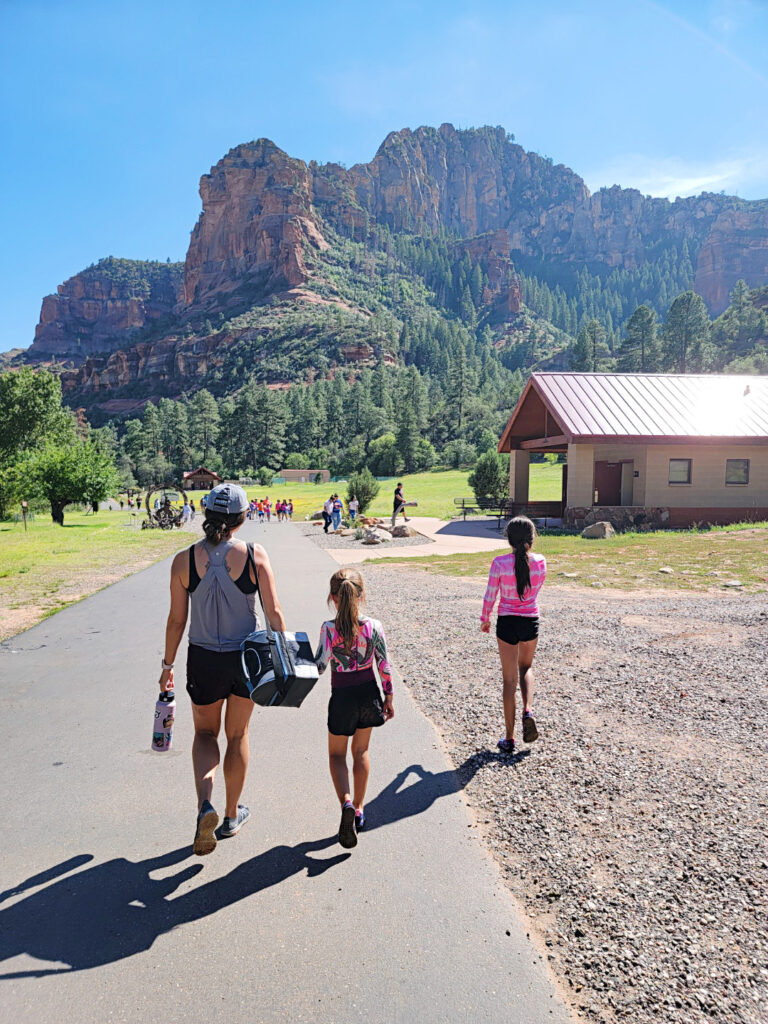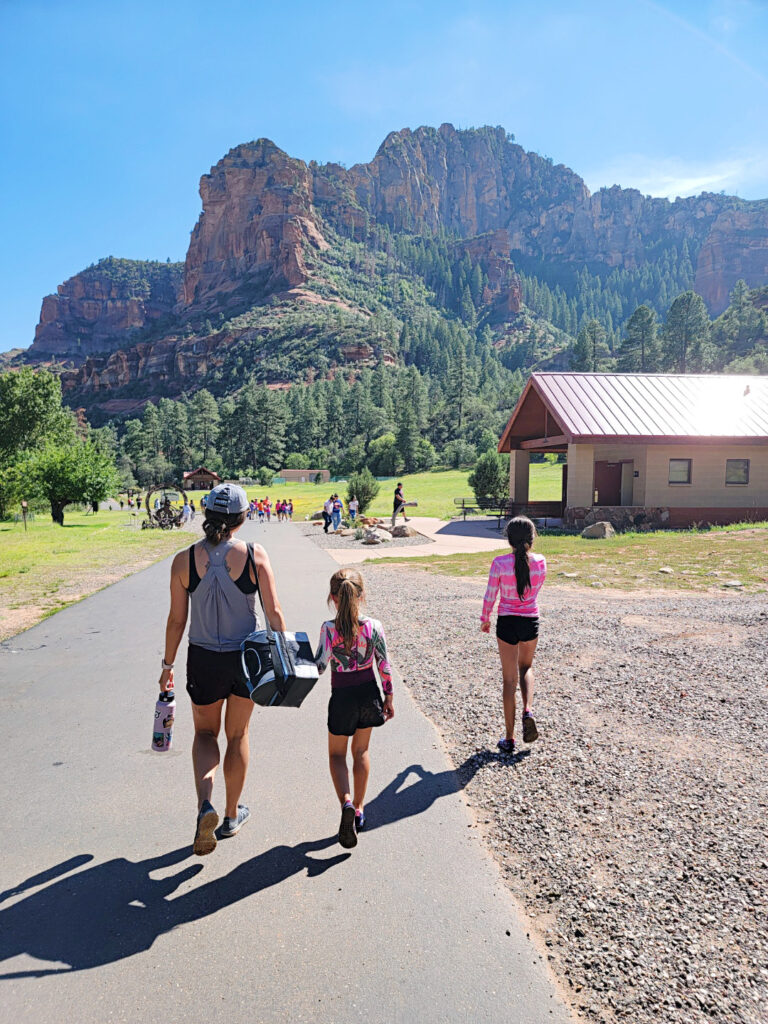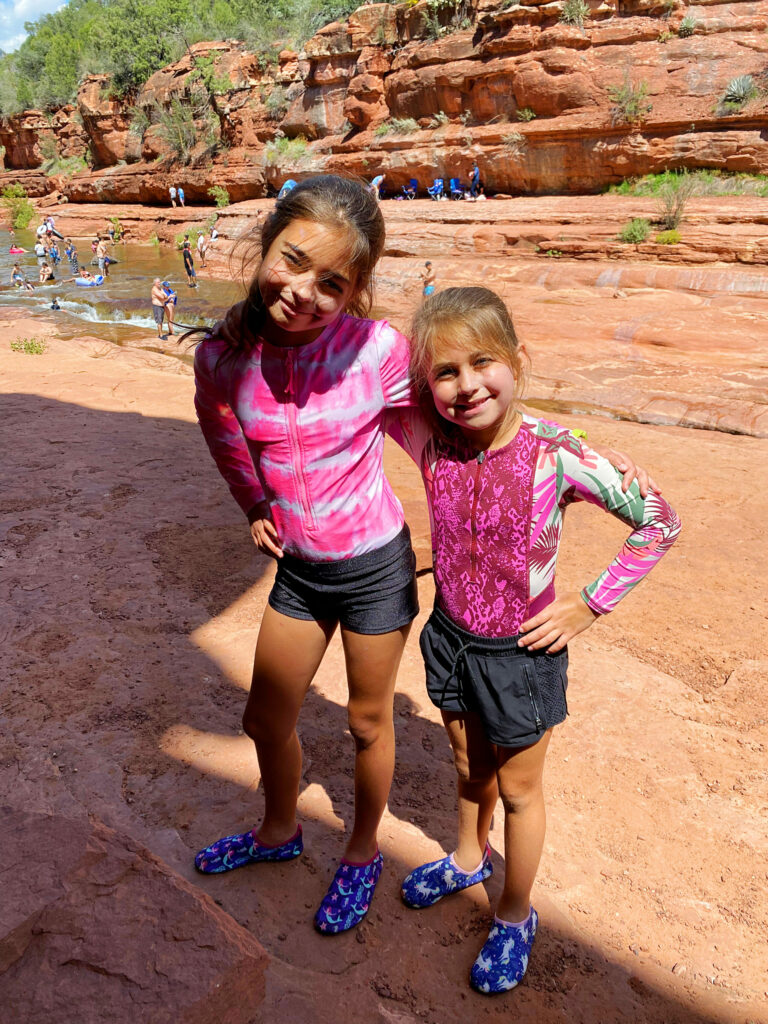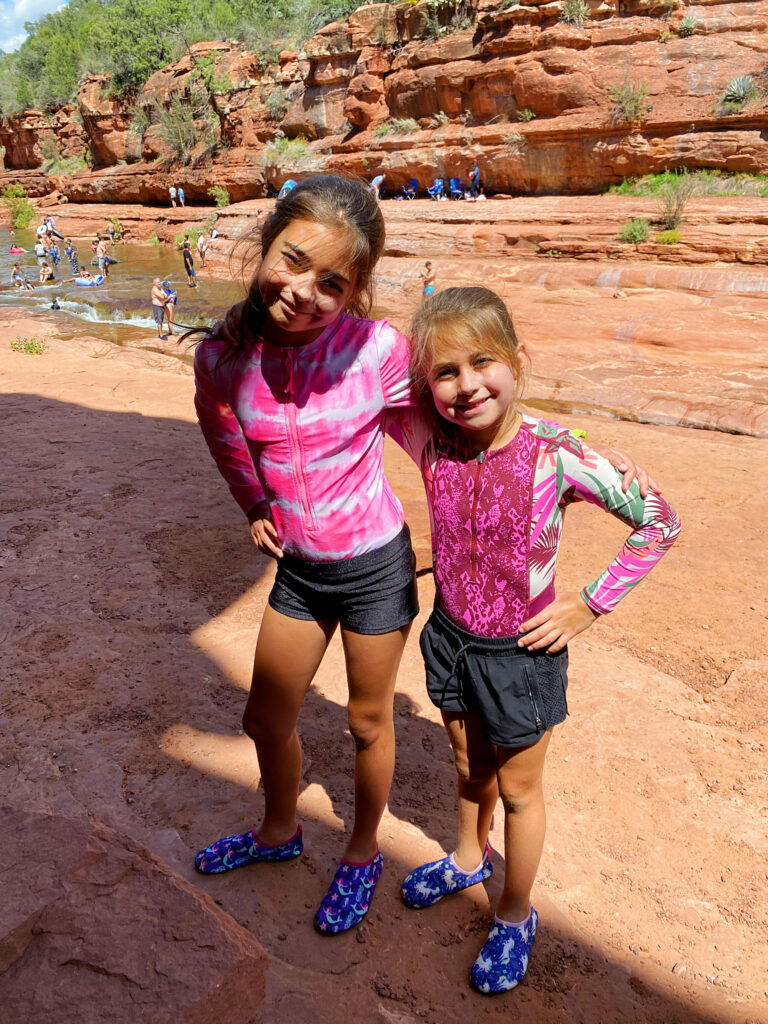 – Hiking! We did three gorgeous hikes while we were there: West Fork Trail (we've done this one before), Bell Rock (new to us!), and Little Horse Trail (also new to us).
West Fork Trail is lush and shaded, with multiple chances to cross water. (Your feet will get wet!!) It's an easy, fairly flat hike, surrounded by wildflowers and trees, and pet and kid-friendly. This is  a must-do because the scenery is so unique and lovely.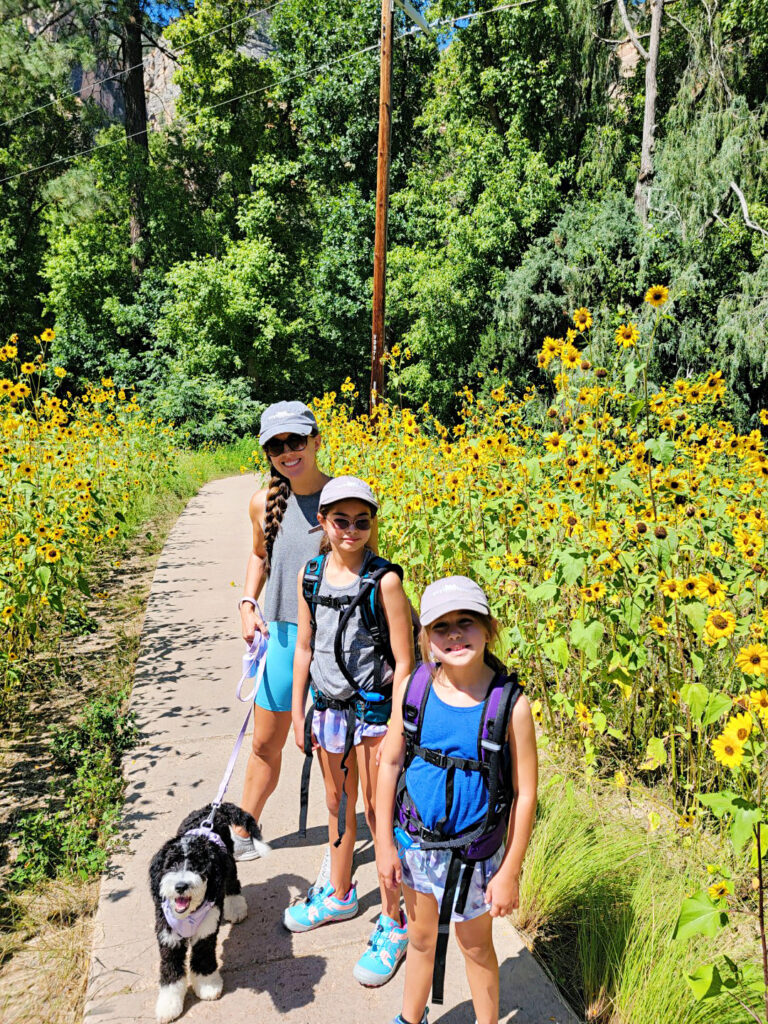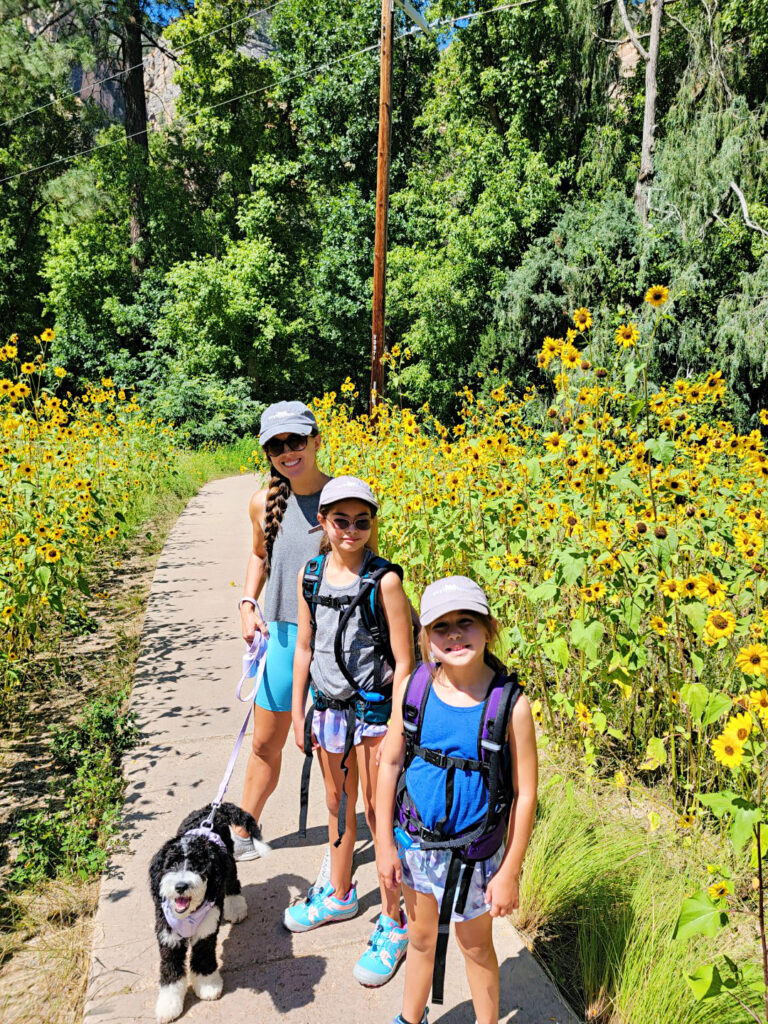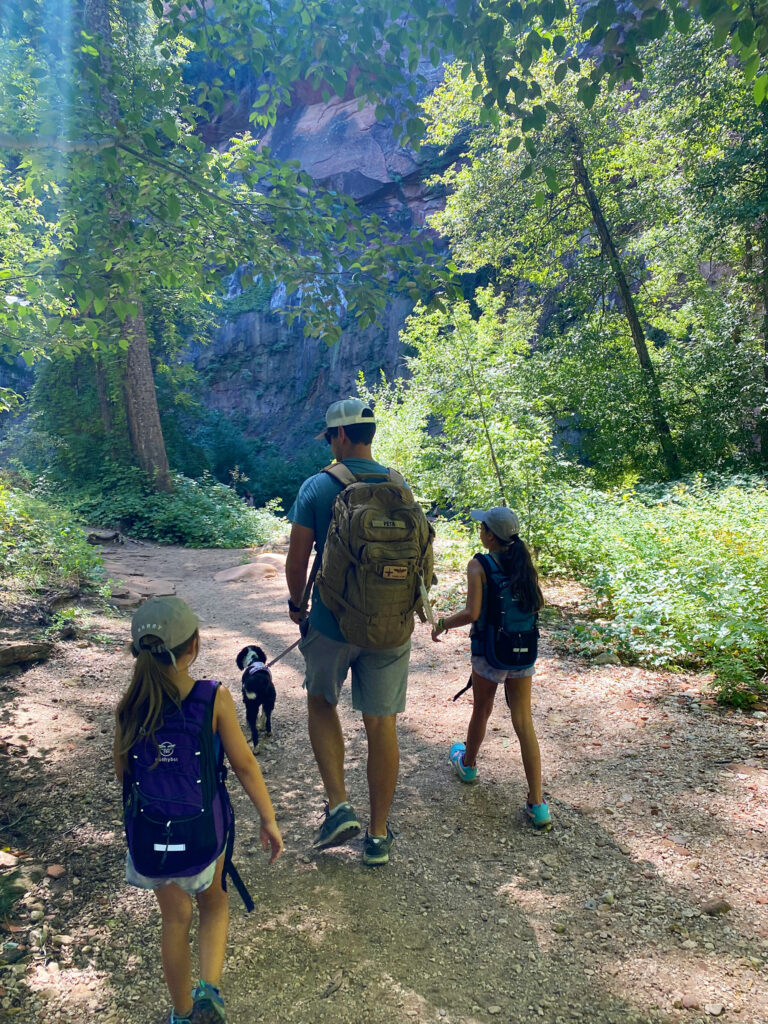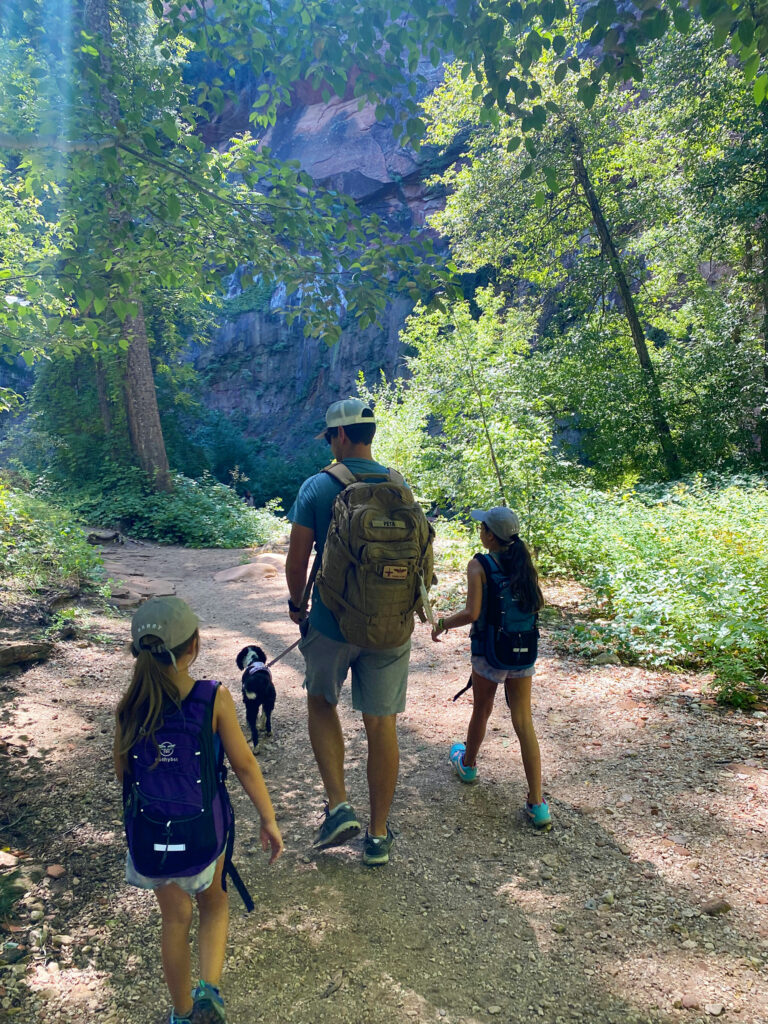 Bell Rock trail goes up into the Bell Rock vortex. Sedona is home to four energy vortexes, which are common hiking spots. The vortexes are believed to promote energy and healing, and some people feel tingling in their bodies as they become closer to the vortexes, or extremely calm and relaxed. The vortexes can also affect sleep! I've found that my first night in Sedona, I always sleep super lightly and have weird dreams! After the first night, I sleep extremely well. It was our first vortex hike and I was surprised how high we were able to get! The kids wanted to keep going but I vetoed them after we got to a certain point. If it were up to them, we'd go to the very top!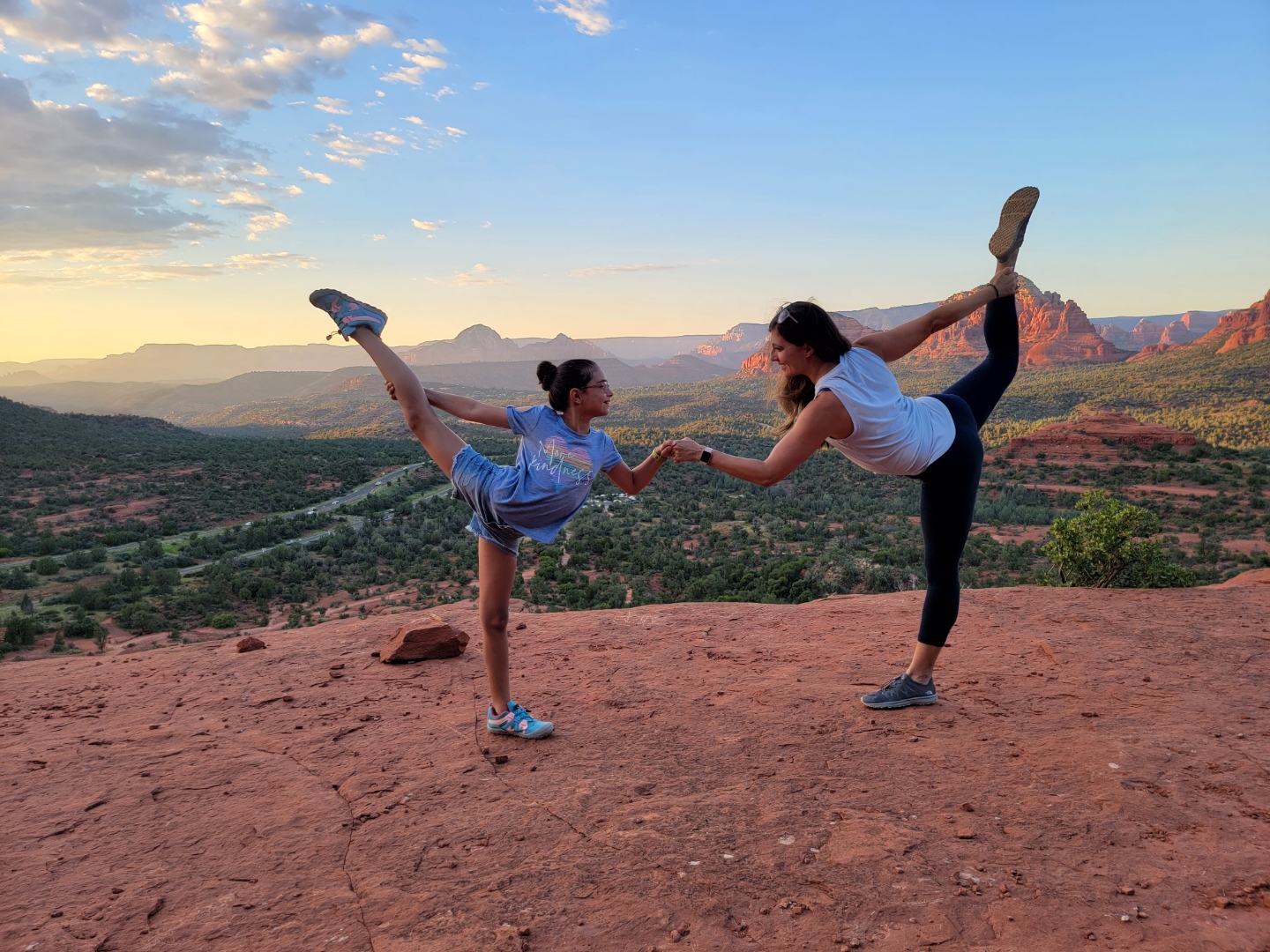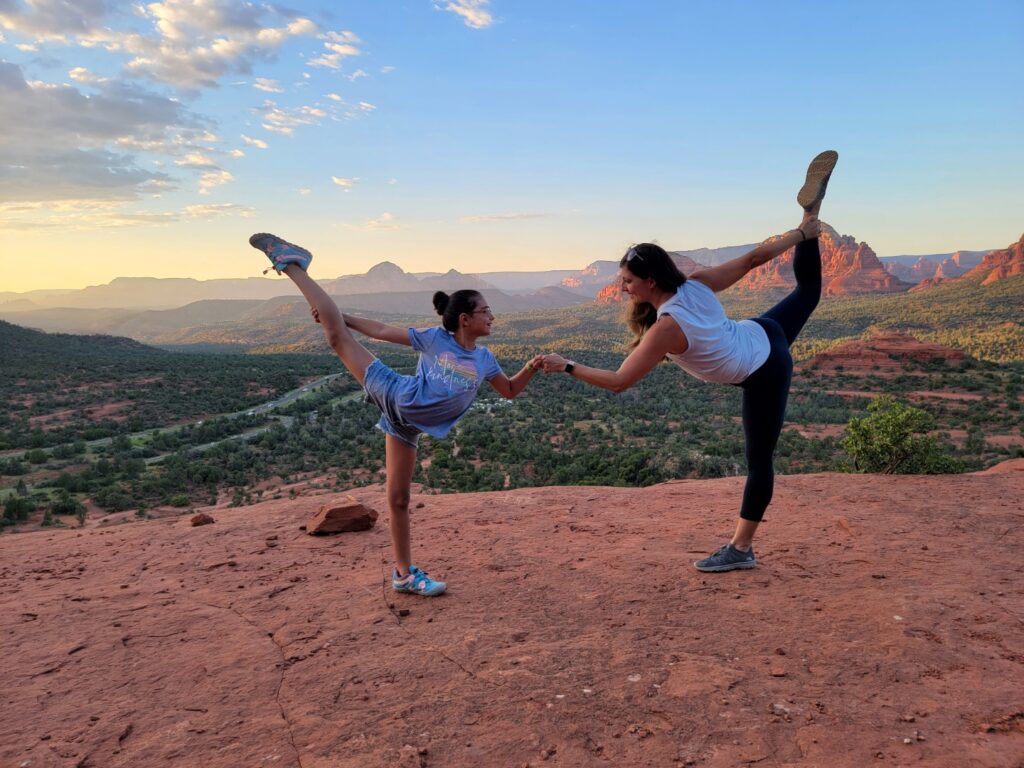 (Heads up that some these pics appear like we're standing close to the edge, but we're a safe distance away. I'm too paranoid lol.) This trail is dog-friendly and well-marked, but once you get to the steeper portions, you have to make your own path to get higher.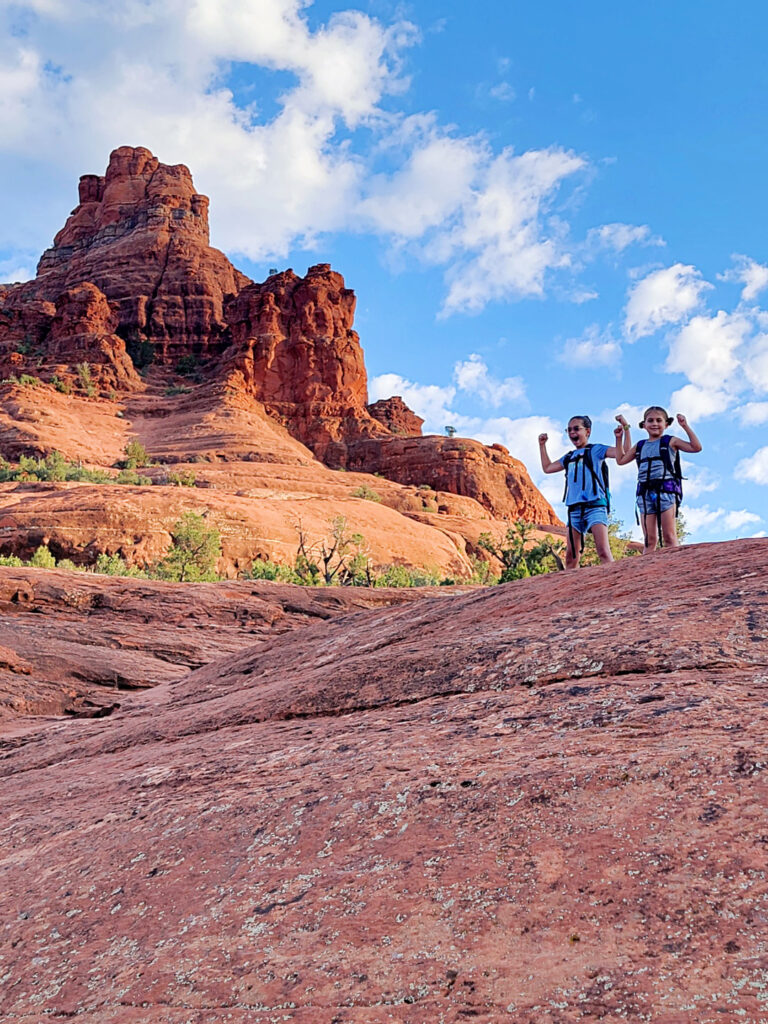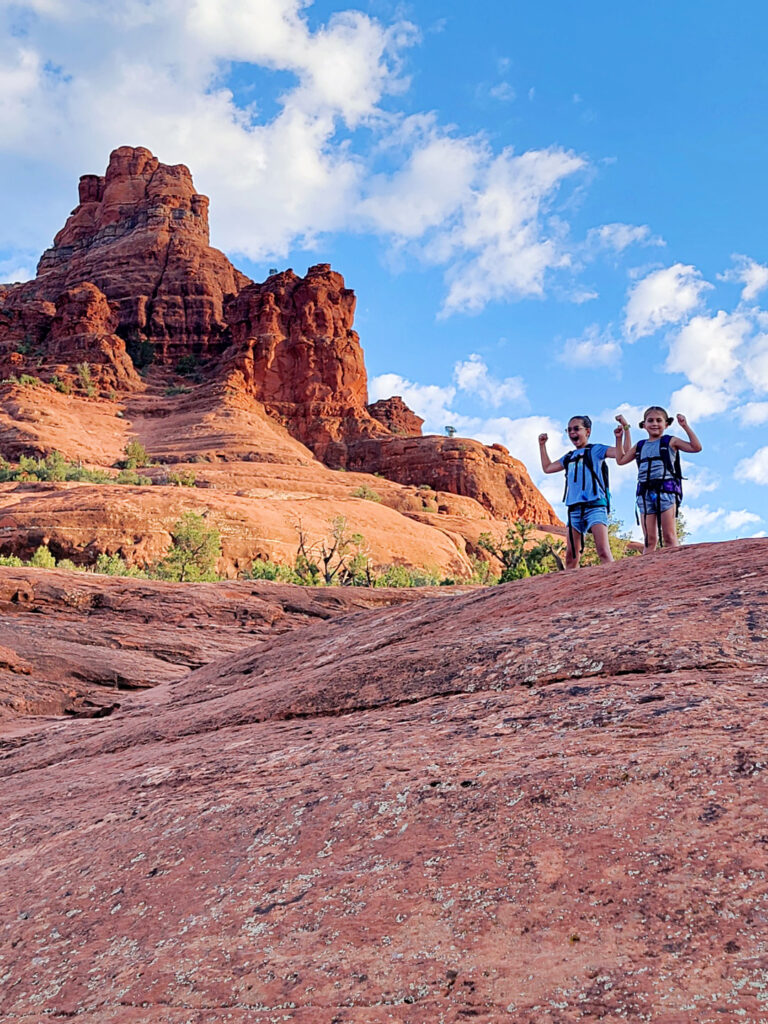 Little Horse Trail is an easy out-and-back with beautiful views (heads up that it doesn't have a lot of shade). It was scenic and dog-friendly; we'll definitely be going back!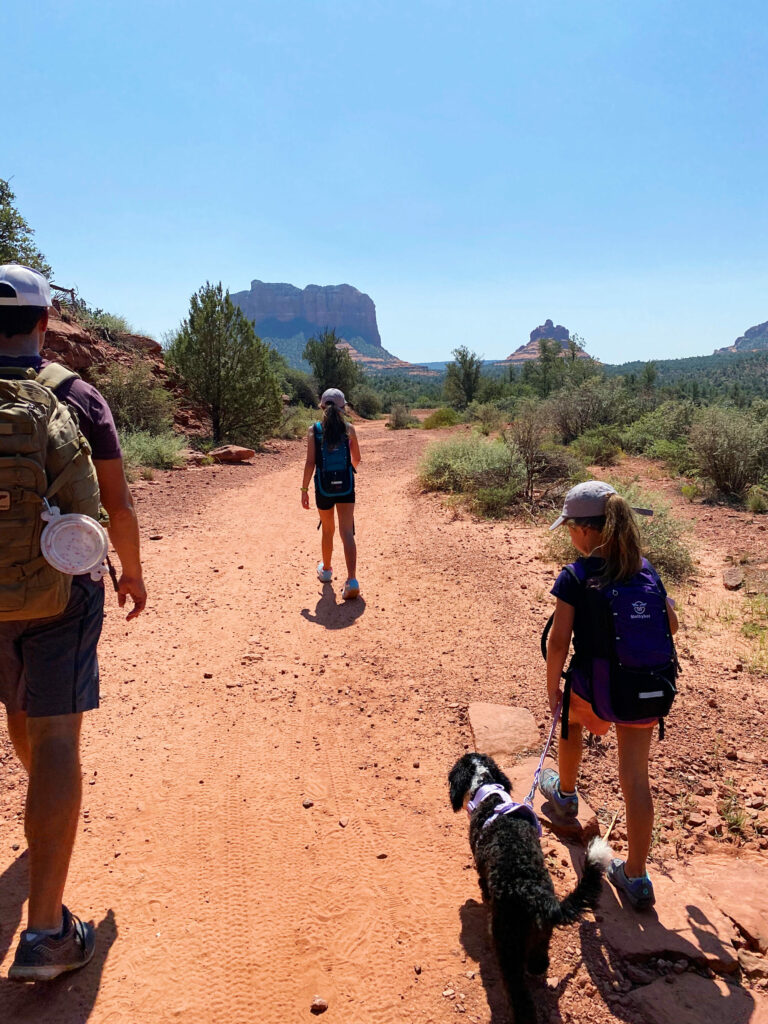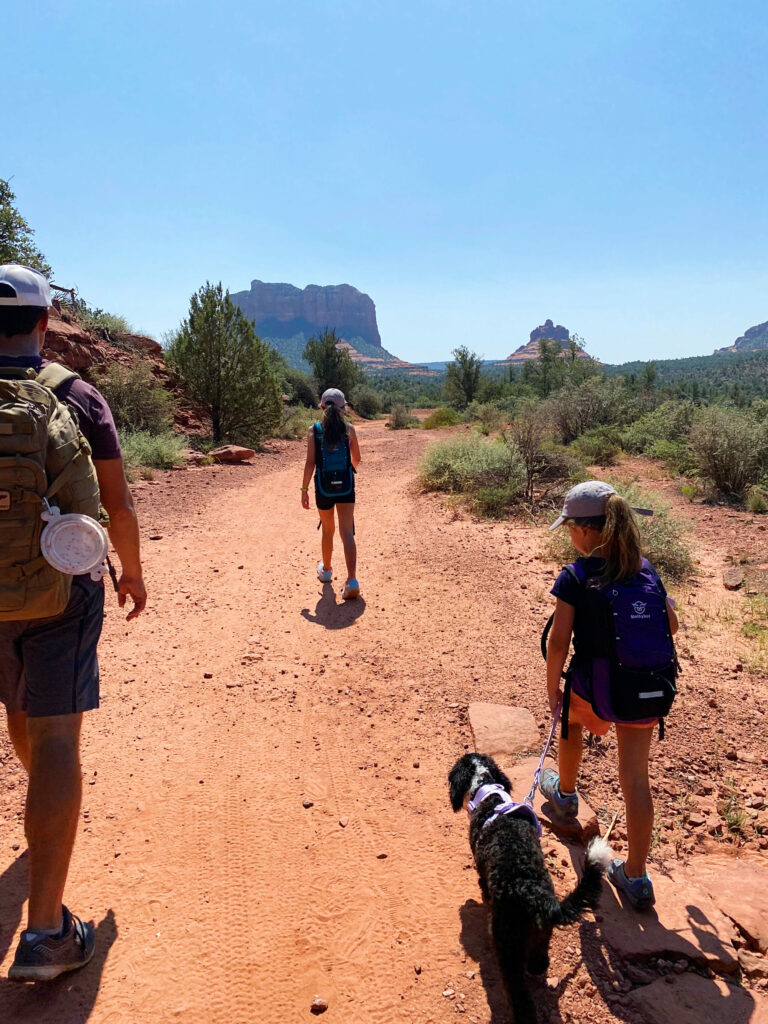 We also shopped a bit – love the shops at Tlaquepaque and the Center for New Age – and ate all.the.things. Sedona has some incredible restaurants; many with patio options and breathtaking views.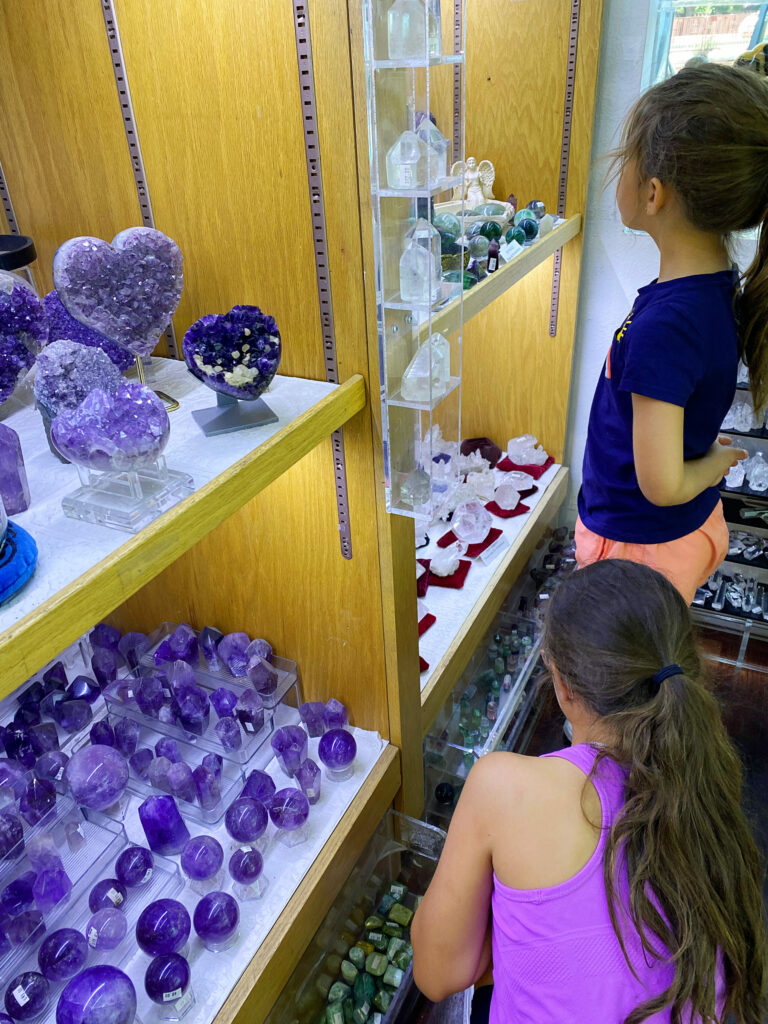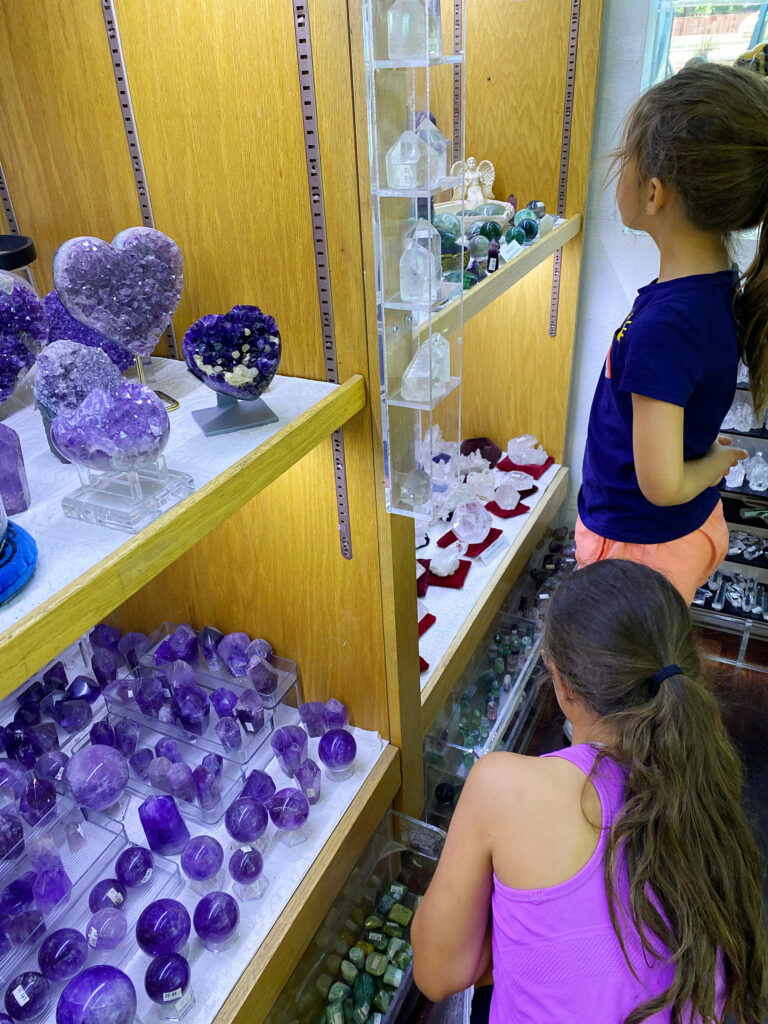 Where we ate:
Creekside (casual spot and the food is consistently great)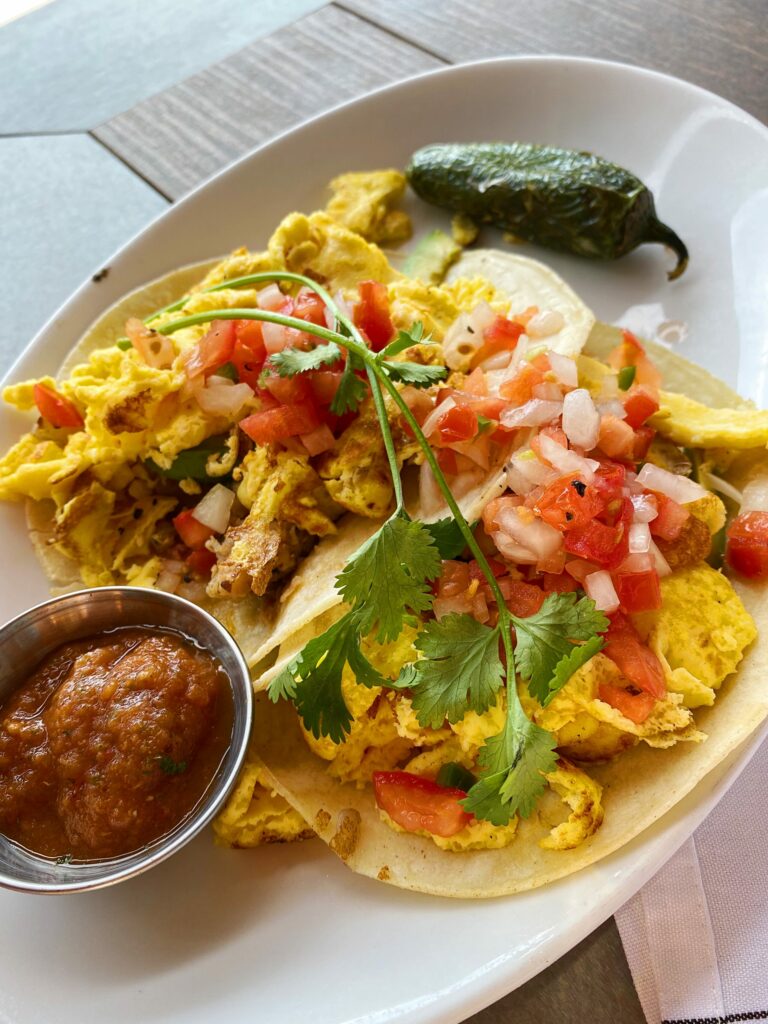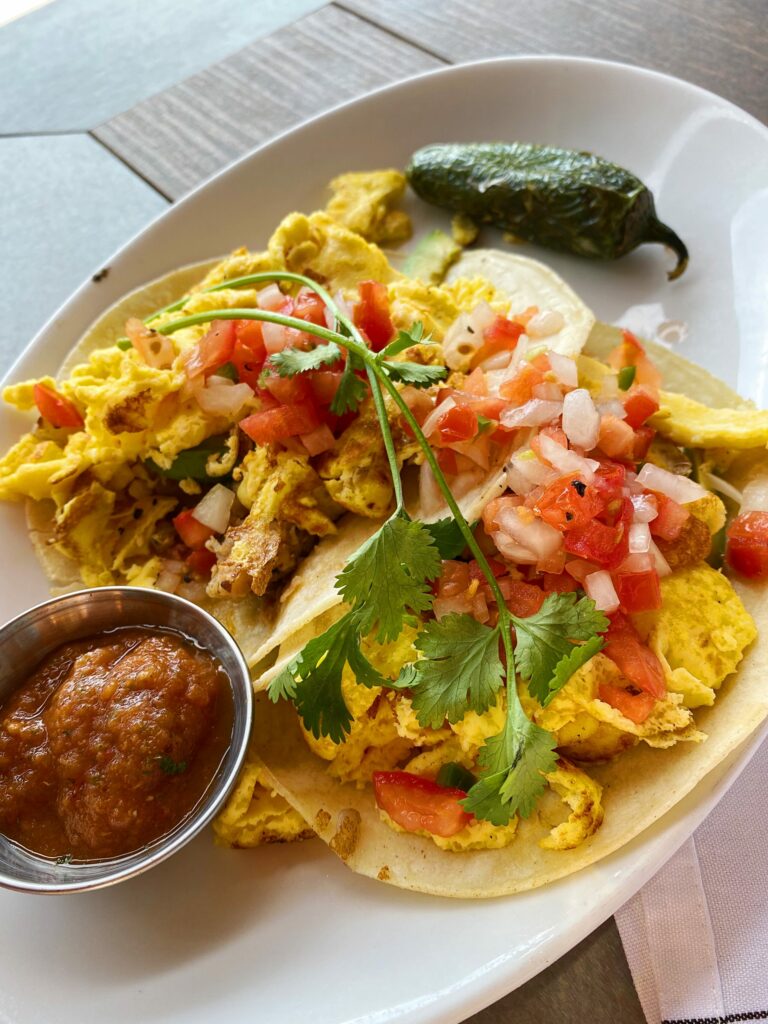 They also have a dog menu. Maisey had steak tartare with egg and will never be the same.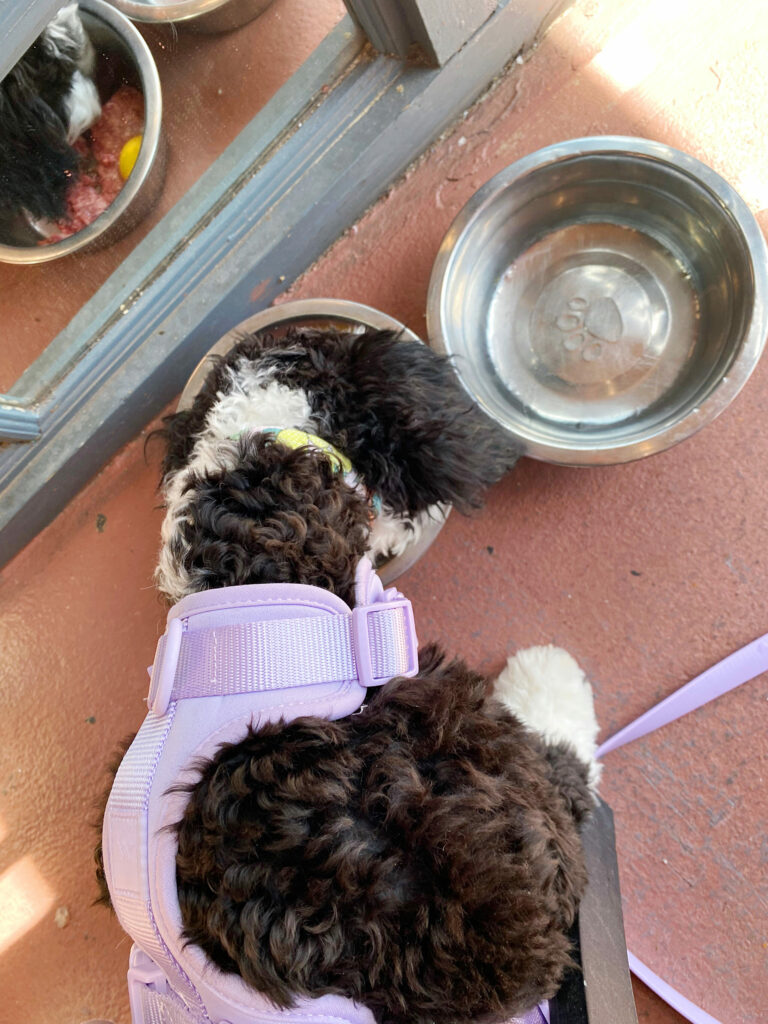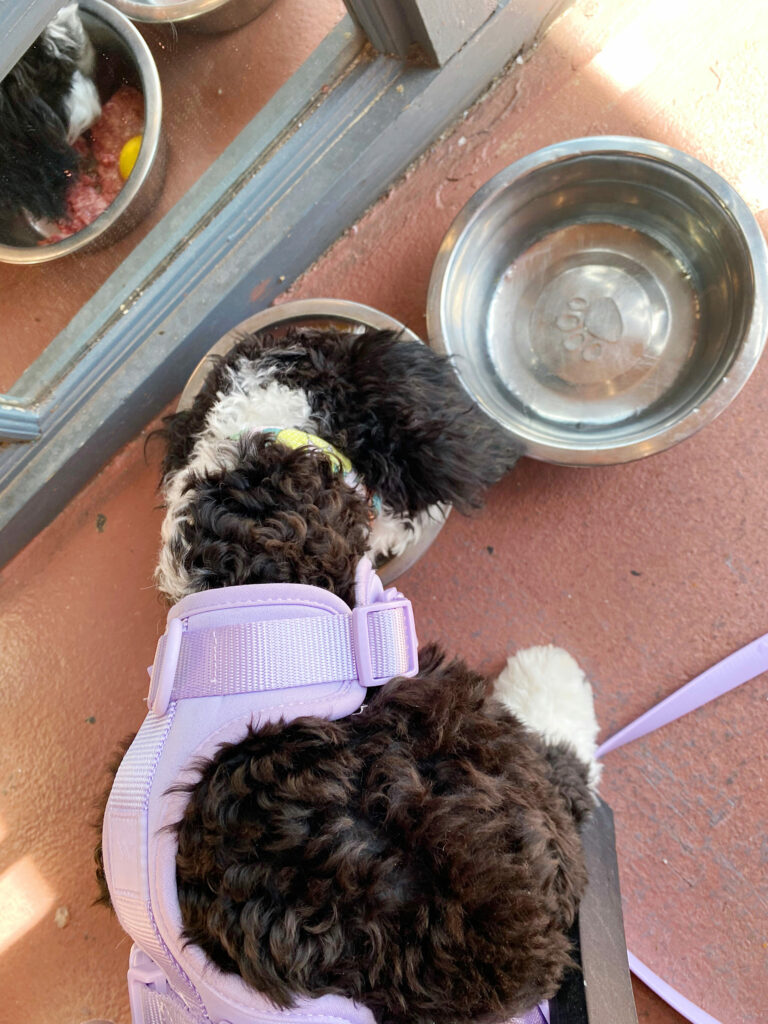 Chocolatree (vegetarian cafe with a housemade chocolate section and everything is gluten-free. It's basically my dream come true.)
I had an adaptogenic tea with chaga and reishi, a vegan brownie, and a green goddess salad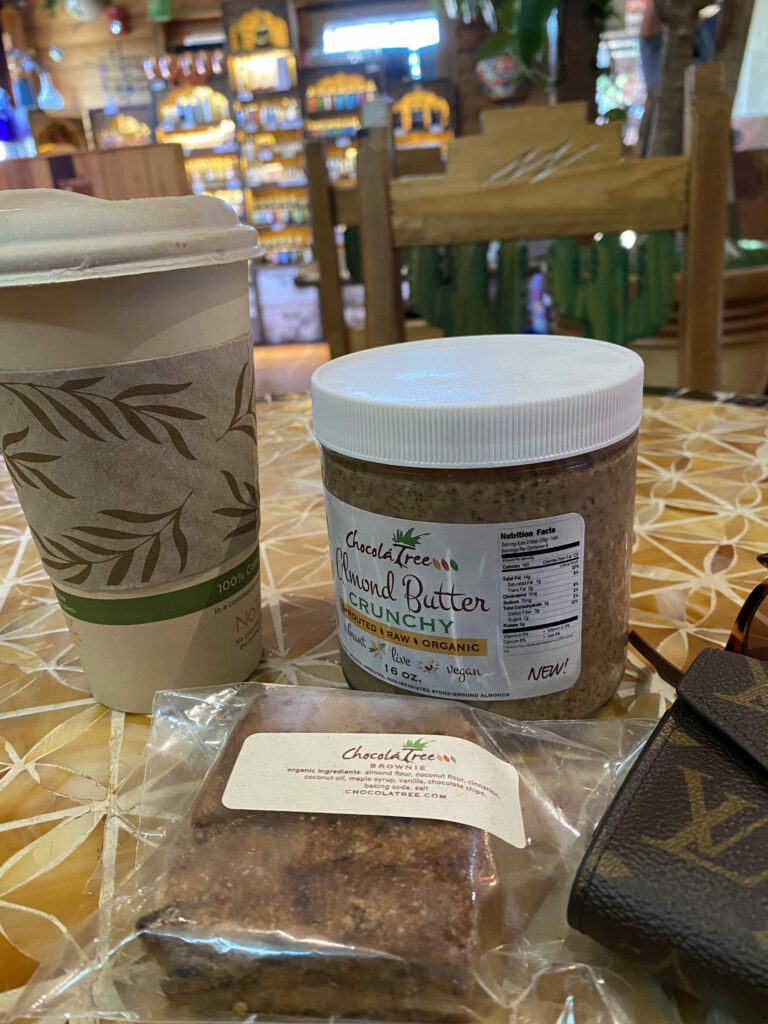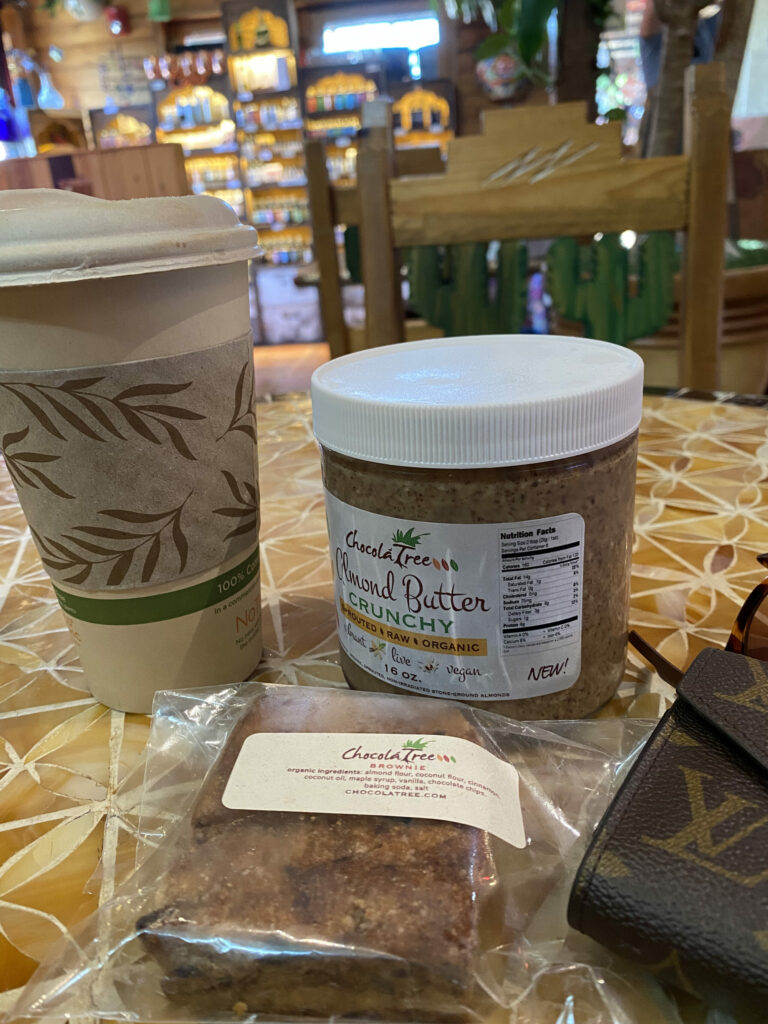 Dinner at Javelina Cantina. Very cute patio and excellent service, but the food was so-so. Just go for the chips, guac, and margaritas.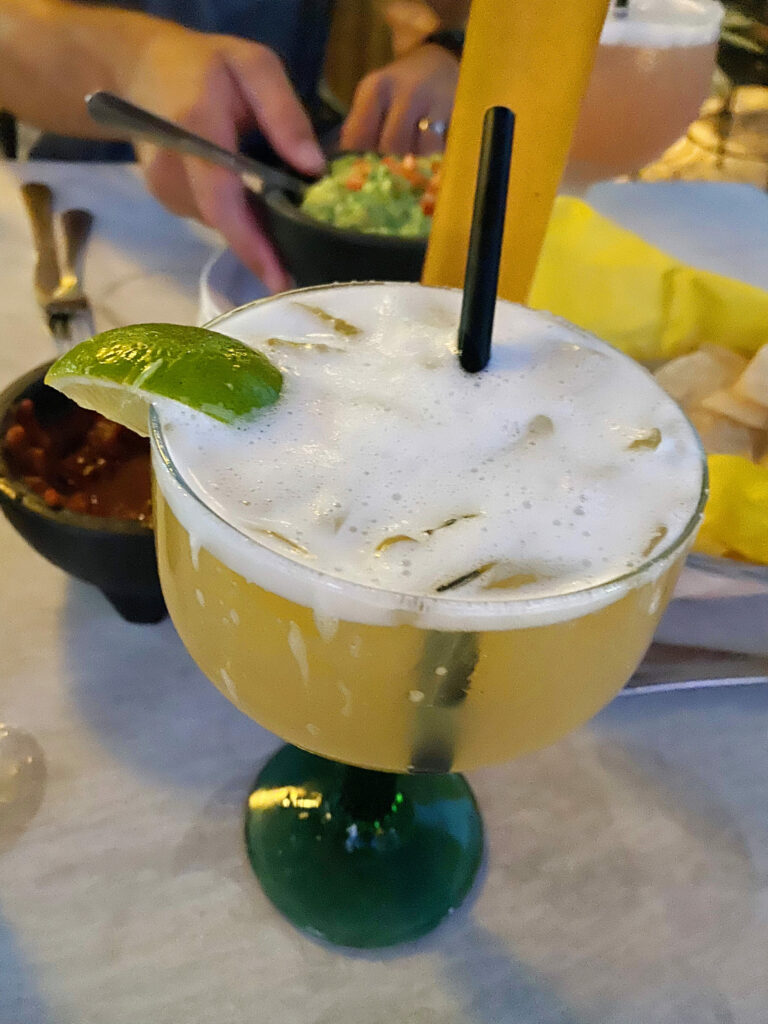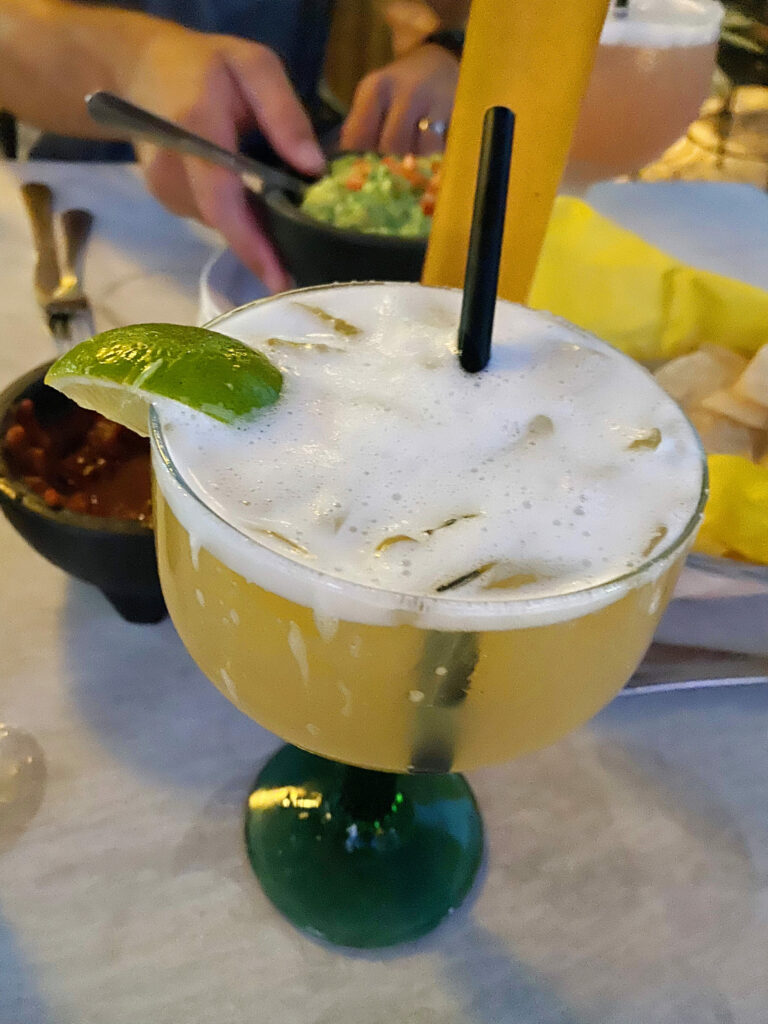 Dinner at Secret Garden – always fresh and good. We shared the hummus appetizer, I enjoyed the salmon for my entree, and we devoured some chocolate mousse cake for dessert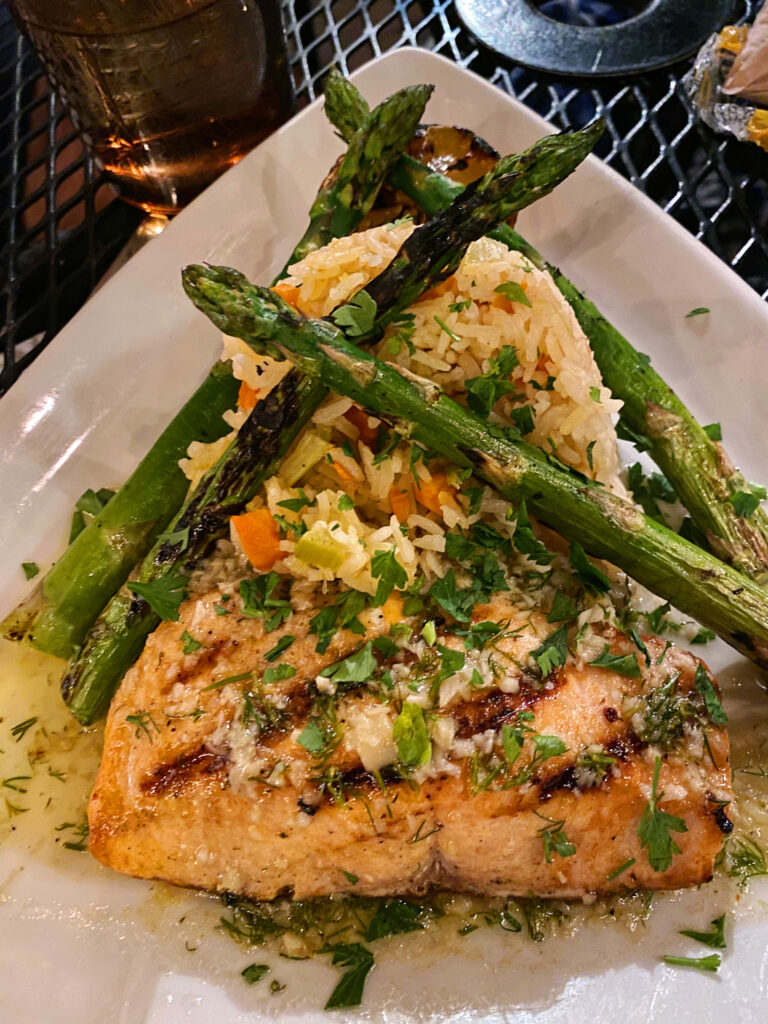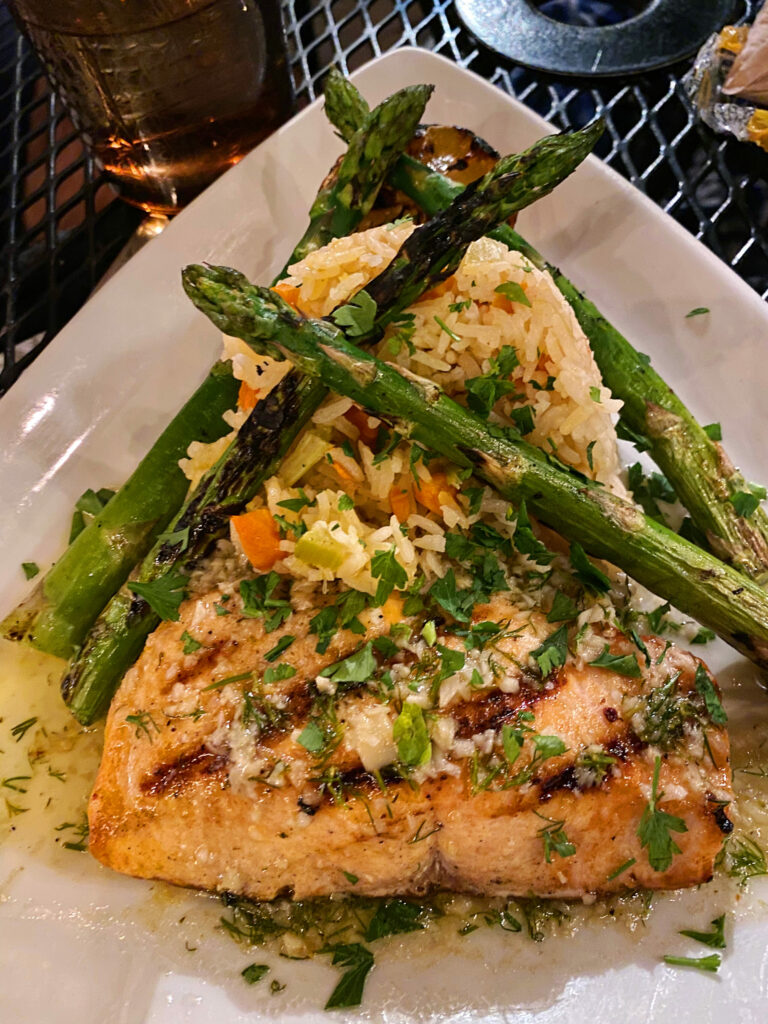 Takeout breakfast from Red Rock Cafe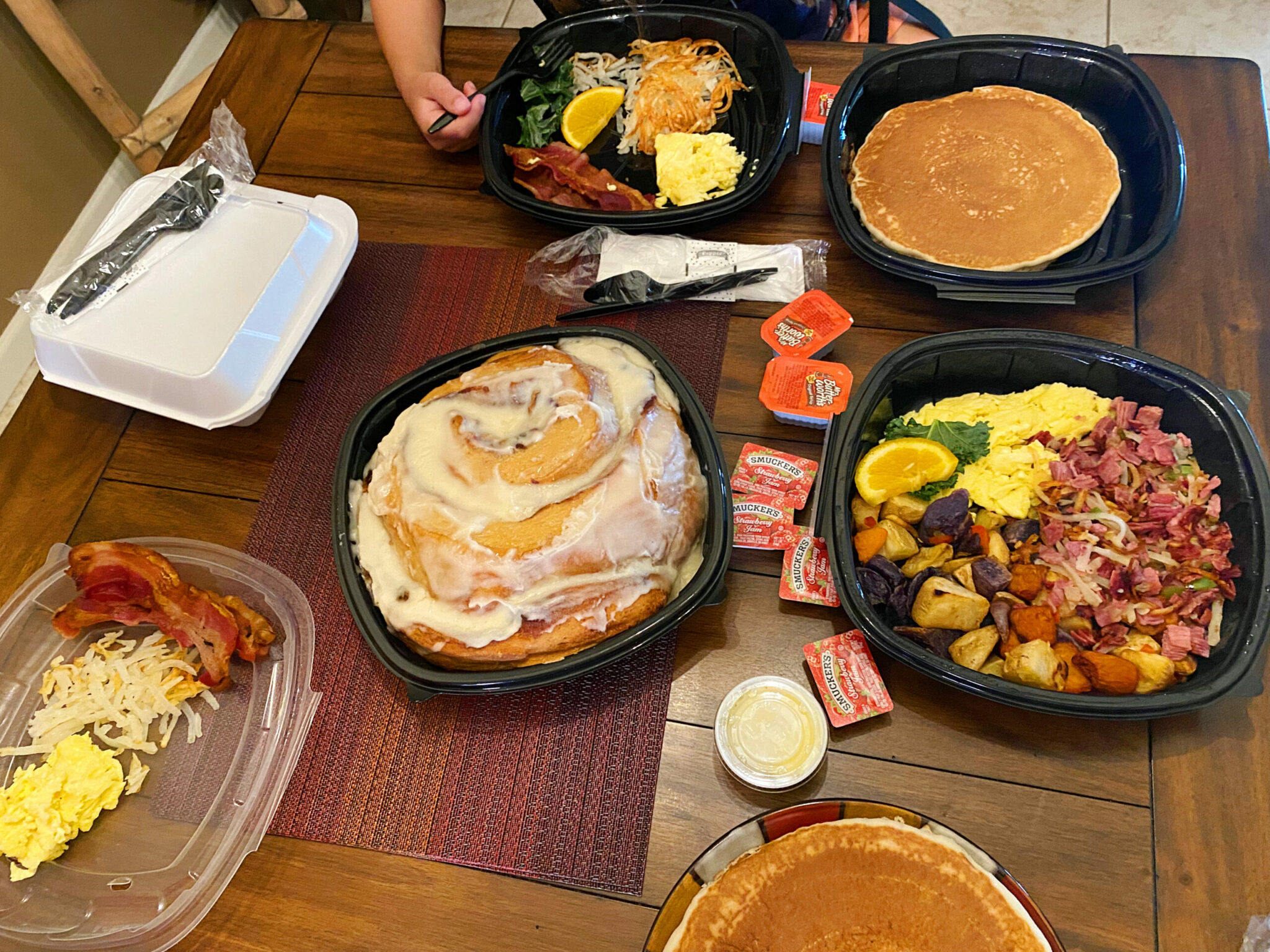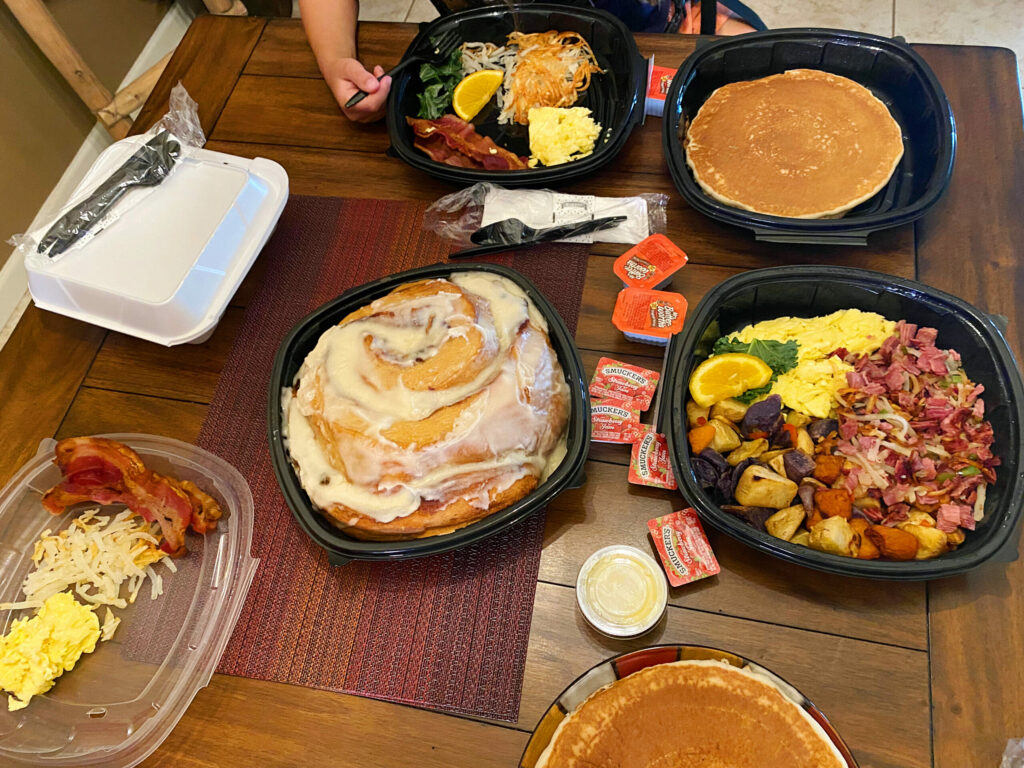 (peep the 3 lb cinnamon roll aka the best restaurant cinnamon roll I've ever had. Who knew that walnuts and raisins take things over the top.)
Thai Spices (takeout on the way home. It was INSANELY amazing and fresh. I highly recommend the green curry chicken.)
It was the perfect little getaway filled with all of my favorite things. Even though I'm back to the usual work and life craziness, I feel refreshed. 🙂
Have you been to Sedona? Any favorite hiking trails or restaurants? Please shout them out in the comments so we can check them out next time we're in town!
xo
Gina